Briton killed and wife kidnapped in Kenya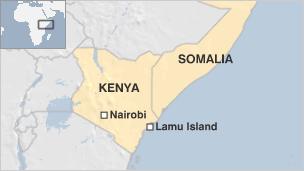 A British man has been killed and his wife kidnapped from a Kenyan resort, Kenyan police say.
The married couple were staying at the luxury Kiwayu Safari Village, north of Lamu Island, when armed men attacked.
Kenyan officials said a police officer saw six men taking away a woman in a speed boat.
Tourist resorts have not been targeted before but the site is near Somalia and Somali pirates could be involved, a BBC reporter says.
The website for Kiwayu Safari Village says it has "organic security protocols as well as a professional security structure which provides us with overarching security and safety 24 hours a day."
It adds: "Our relationship with the local community, its fishermen and the local authorities is positive and mutually beneficial. We regularly review our security and safety to ensure it is both comprehensive and current."
Police Commissioner Mathew Iteere said the couple arrived at the resort on Saturday after visiting Kenya's Masai Mara reserve and were the resort's only guests, staying in a cottage.
Speaking at a news conference, Mr Iteere said: "They do not have doors, those cottages. They are using the cloth as the doors. So I think they gained entry so easily and it was only one shot.
"Maybe they wanted to take the two and he [the husband] resisted and that's why he was shot."
He said the motive for the attack was unknown, but police were treating it as a "bandit attack".
There was no evidence to suggest the attackers came from Somalia, nor that Islamist group al-Shabab, which has links to al-Qaeda, was involved.
The Foreign Office, which did not release the names of the couple, called for the immediate release of the woman.
It said it was working with Kenyan authorities to establish further details about the attack, and has sent staff from the high commission in Nairobi to the area.
Kenyan police have said they have been on high alert in many areas of the country on the anniversary of the 9/11 attacks in the US.
Mr Iteere said reinforcements had been sent to the northeast and coastal provinces, including more roadblocks. "We are going to continue [these measures], not just because of this incident, we had done it because of that anniversary of September 11."
Related Internet Links
The BBC is not responsible for the content of external sites.