UK police in Kenya to aid Briton's murder investigation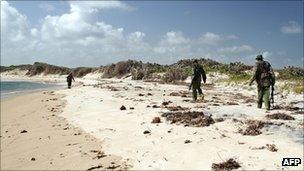 UK counter terrorism detectives have arrived in Kenya to help investigate the murder of a British holidaymaker, the Metropolitan police has said.
It is feared the shot man's kidnapped wife may have been taken to Somalia.
The couple, believed to be David and Judith Tebbutt from Bishop's Stortford, Hertfordshire, were staying at the luxury Kiwayu Safari Village.
There are reports Kenyan police have arrested a local man on suspicion of helping to co-ordinate the attack.
The BBC's security correspondent Frank Gardner said there were now two investigations under way in Kenya - a murder investigation by the Met's Counter Terrorism Command, and a second wide-scale manhunt by the Kenyan authorities. The Kenyan authorities remain the lead investigators.
UK detectives are also helping in the repatriation of Mr Tebbutt, he said.
Our correspondent said it is now believed Mrs Tebbutt was taken at gunpoint to the Somali mainland in a pre-planned operation to seize western hostages.
Her abductors are suspected to be from the Islamist extremist group Al-Shebab or pirate gangs in Somalia, he added.
The BBC's Will Ross, near the resort in Kiwayu, said it had been reported that the man who had been arrested had allegedly been forced, at gunpoint, to be an accomplice and guide the attackers to where the tourists were staying.
He said there had been questions over whether the attackers had inside help - there were 18 cottages spread across the resort, yet the gunmen had gone to the only one with guests.
There have also been suggestions of possible family links between people in villages in the north coast of Kenya and south Somalia.
The couple were attacked on the first night of their stay at the resort on Saturday night, following a trip to Kenya's Masai Mara reserve.
Local police said the gunmen entered the couple's room - which only had cloths for doors - shortly after midnight and fired a single shot.
Mrs Tebbutt was reportedly taken from the resort by six men in a speedboat, in what police described as a "bandit attack".
Kenyan police said it was possible Mr Tebbutt had been shot because he resisted.
The Foreign Office has called for the 56-year-old woman to be released unharmed, saying she was an "innocent tourist".
It said a team had been sent to the area to help secure her release and that it was "offering all possible support to the family of those involved".
Mrs Tebbutt, who works as a social worker in Bassingbourn-cum-Kneesworth, near Royston in Herts, is believed to be deaf and to wear a double hearing aid.
A spokesman at Kneesworth House hospital said: "Jude has been with the company for seven years and is a dedicated team member known to many of the patients and staff at the hospital.
"Our thoughts are with Jude and her family at this time and we are hoping to shortly hear of her safe return."
Mr Tebbutt worked in publishing. Literary agent Carol Blake, who sat on a book charity board alongside Mr Tebbutt, described him as "calm, dependable and wise", and a seasoned traveller.
"I'm not at all surprised to hear that he may have been defending his wife. I can't imagine what their son is going through," she said.
Iain Stevenson, professor of publishing at University College London, added: "He was just basically a very kind, modest, unassuming man, very funny, with a wicked sense of humour, but he was very dedicated to his family."
The website for Kiwayu Safari Village, which was shut down following the attack, said the resort had round-the-clock security which was reviewed regularly. The village is about 45km (28 miles) from the Somali border.
A statement from the resort said everyone was "devastated" by the "tragic" events.
"We wish to extend our deepest condolences to the Tebbutt family and their many friends. Our thoughts are with them as we pray for Judith's safe return.
"We are offering every assistance we can to help with the investigation and wish to express our sincere thanks to the Kenyan security services and the British authorities for all that they are doing."
The Foreign Office continues to advise against all but essential travel to within 30km (18 miles) of Kenya's border with Somalia. There have been previous attacks by Somali militia into Kenya, it says.
Kenyan police said they had been on high alert in many areas of the country on the anniversary of the 9/11 attacks in the US.
Related Internet Links
The BBC is not responsible for the content of external sites.