ANC to challenge Malema Shoot the Boer 'hate song' ban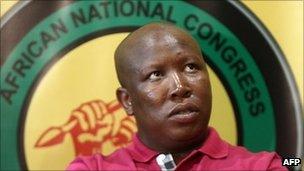 South Africa's ruling African National Congress (ANC) party will appeal against a high court ruling banning the anti-apartheid song Shoot the Boer.
The court said the song, which refers to white farmers, was hate speech and banned ANC youth league leader Julius Malema and the party from singing it.
Mr Malema is also facing an internal ANC disciplinary hearing that could expel him from the party.
But President Jacob Zuma said the youth leader should be helped not banished.
Mr Malema has become a critic of the president, falling out with him after accusing him of not doing enough for poor black South Africans - his main support group in the 2009 elections which brought him to power.
"I think the objective is: How do you help Malema? Because Malema has a lot of elements that are good in him," Mr Zuma told South Africa's Business Report newspaper.
If found guilty by the ANC hearing, Mr Malema could be expelled from the party altogether as he is already on probation after criticising President Zuma last year.
His latest ANC charges relate to the 30 year old's call for regime change in neighbouring Botswana, which runs against both government and ANC policy.
"What you have to do, is deal with things that are not right with Malema. You cannot allow him to do the wrong things," Mr Zuma said.
"In other words, the job of the ANC is to help Malema, to mould him into a dynamic, good leader.
"That's what we need to do. It is only if you can't do it, that the question becomes what do we do with him."
Mr Malema says he is the victim of a political witch-hunt because of his opposition to Mr Zuma.
The ANC is due to choose its leadership next year, with its president likely to become South Africa's next leader after the 2014 elections.
The BBC's Karen Allen in Johannesburg says that although Mr Malema is seen as a maverick within his own party, when evidence was heard in the high court earlier this year over the Shoot the Boer case, a string of ANC grandees queued up to defend him.
Afrikaans interest group AfriForum had brought the case, but Mr Malema and other ANC leaders argued the song was a celebration of the fight against minority rule.
"This song has its place in history, it's got to be respected as such," ANC spokeswoman Jessie Duarte told South African TV E News.
She said the party would appeal against the ban as the decision would be impossible to implement.
"To me this is beginning to be beyond ridiculous," Ms Duarte said.
"The question we must also put to South Africa is how serious is a complaint by an interest group as small as AfriForum that it begins to make South African law change and changes the history of this country."
On Monday, judge Collin Lamont said that in post-apartheid South Africa, all citizens are called to treat each other equally and urged the ANC to find new customs which did not bring disunity.
Mr Malema, who has made the song Shoot the Boer his signature tune, wants South Africa to nationalise its rich mines and seize white-owned land. He has praised President Robert Mugabe's land reform in neighbouring Zimbabwe.
He is also being investigated by state prosecutors on allegations of fraud and corruption, which he denies.
Related Internet Links
The BBC is not responsible for the content of external sites.