Nairobi slum fire: Kenya officials deny blame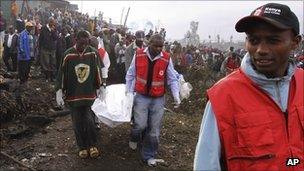 Kenya's government has defended its failure to move slum-dwellers away from a fuel pipeline that leaked on Monday, causing a fire which killed dozens.
Local Government Minister Musalia Mudavadi told the BBC that officials had been trying to find a "humane" way to relocate them from the Nairobi slum.
Kenya Petroleum Company (KPC), which owns the pipeline, had warned in 2008 that residents should be moved.
Residents are in shock after the fire burned at least 87 people to death.
Rescuers and family members are still searching for the dead in a nearby river, where charred corpses can be seen.
Some reports say more than 100 people died.
The government has been widely criticised for allowing people to go on living in the slum, in the Sinai area of the capital, despite being aware that such an accident was possible.
Mr Mudavadi admitted to the BBC's Focus on Africa programme that the accident could have been avoided, but defended the government's approach.
"If we're going to relocate them, where are we going to relocate them to? We are enforcing rules, but we have to do it humanely," he said.
"There's a lot of negotiations going on with the community members to try to persuade them to move so that we're not using excessive force to get them out."
But he said the government also had to deal with a culture where people did not respect the right of access of companies to land.
A KPC spokeswoman said at the time that slum-dwellers had been given one week to leave the area.
But residents told the channel that they would not move because the slum was their home.
KPC head Selest Kilinda said the firm would investigate how the fire started.
"We did our best to stop what happened, particularly after we heard that there was fire. We did our best to stop the fire from ravaging the property and the lives of the people," he said.
The firm said there was a spill from the pipeline, then a fire erupted, but has not given any more detail.
Reports said some slum residents rushed to collect fuel leaking from the pipe into an open sewer before the explosion.
The densely populated Sinai area lies between Nairobi's city centre and the airport.