Kenya kidnap: Cameron says the UK is doing all it can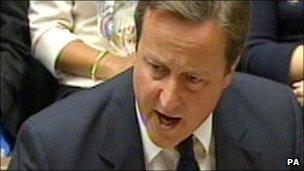 The government is doing everything it can to try to find a British tourist kidnapped in Kenya, David Cameron says.
Judith Tebbutt, 56, was kidnapped and her husband David, 58, shot dead at a resort on Saturday. It is believed Mrs Tebbutt may have been taken to Somalia.
Mr Cameron told MPs the Cobra emergency committee met on Tuesday to ensure the government's response to the kidnapping was co-ordinated.
"We are doing everything we possibly can on this desperately tragic case."
At Prime Minister's Questions, Conservative MP Richard Harrington said the couple's son Oliver lived in his Watford constituency. Mr Harrington asked what was being done to find Mrs Tebbutt and apprehend her husband's killers.
Mr Cameron said: "It's not right to air all of these issues in public but I can reassure you and all the Tebbutt family we will do everything possible to help."
He said Foreign Secretary William Hague had earlier met relatives of the Tebbutts.
Mr and Mrs Tebbutt, from Bishop's Stortford in Hertfordshire, were staying at Kiwayu Safari Village on the coast about 45km (28 miles) from Somalia's border when they were attacked. They were the 18-cottage resort's only guests at the time.
Local police said the gunmen entered the couple's room - which only had cloths for doors - shortly after midnight and fired a single shot.
Mrs Tebbutt was reportedly taken from the resort by six men in a speedboat, in what police described as a "bandit attack".
Kenyan police said it was possible Mr Tebbutt had been shot because he resisted.
The offenders are suspected to be from the Islamist extremist group al-Shabab or pirate gangs in Somalia.
Police in Kenya have reportedly arrested a man suspected of involvement in the case and are conducting a wide-scale manhunt. A team of Metropolitan Police officers travelled to Kenya on Tuesday to help local authorities with their investigations.
The Foreign Office continues to advise against all but essential travel to within 30km (18 miles) of Kenya's border with Somalia. There have been previous attacks by Somali militia into Kenya, it says.
Kenyan police said they had been on high alert in many areas of the country on the anniversary of the 9/11 attacks in the US.
Related Internet Links
The BBC is not responsible for the content of external sites.