Angola: Huambo air force plane crash kills generals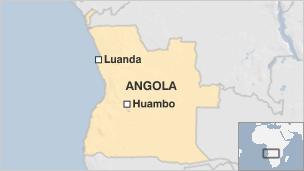 A plane crash in Angola has killed 30 people, including three army generals, a military official has said.
Government official Luis Caetano, a spokesman for Huambo authorities, told the BBC the military aircraft crashed after leaving Huambo city airport.
He said six people had survived, including the pilot and co-pilot. State-run media says 17 people died.
Correspondents say the aircraft was a relatively new Embraer plane purchased by the army to transport top officials.
It is the third military plane crash in two months - after recent helicopter accidents in Moxico and Malange.
Initial reports said that there were 36 passengers on board, but Mr Caetano told the BBC's Focus on Africa programme the number was 32.
He said the aeroplane divided when it crashed and 26 bodies - 20 men and six women - had initially been recovered from wreckage.
People in the front of the aircraft survived, but those passengers in the back died as that section caught fire, he said.
A photograph issued by state-run news agency Angop showed the plane had broken into two pieces upon impact.
A hospital official said five of the injured suffered second degree burns and one passenger was in a serious condition with third degree burns, AFP news agency said.
The plane's pilot said he did not know what had gone wrong.
"I don't know what happened, the plane was fine during taxi and takeoff, and then I really do not know what happened," captain Jose Goncalves said from hospital, AFP reported.
Angola state-run Angop news agency named two of the dead as Lt Gen Bernardo Leitao Francisco Diogo, known by his civil war name "Lelo Kizua", and Lt Gen Elias Malungo Bravo da Costa Pedro, known as "Kalias".
Kalias was the director of the rebel leader Jonas Savimbi's office and was apparently captured in 2002 when Savimbi was killed, ending the civil war, it reports.
Mr Caetano said the pilot, who had spoken to Angolan TV, seemed confused but insisted that he had complied with all instructions from the control tower.
Portugal's Sol newspaper quoted a survivor in hospital as saying that the accident happened so fast it was difficult to know what the problem was, but the pilot seemed to be aware that there was a technical fault.
Portuguese news agency Lusa said the accident happened at about midday local time (11:00 GMT).
The plane, bound for the capital, Luanda, took off from Huambo's Albano Machado airport, which was only re-opened by the president last month after undergoing renovations.
Since 2002, Angola has been striving to tackle the legacy of a 27-year civil war that ravaged the country after independence.
It is one of Africa's major oil producers, but two thirds of the people remain in poverty.
According to Jane's Intelligence and Analysis, a digest of military information, Angola has the largest standing army in central and southern Africa and one of the largest air forces in sub-Saharan Africa.
Related Internet Links
The BBC is not responsible for the content of external sites.