'Missing' South African diver found in police cell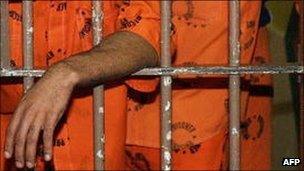 A rescue team was mobilised to search for a missing scuba diver in South Africa, until his mother disclosed that he was in fact in a police cell.
The rescue team's spokesman Craig Lambinon said a friend reported the diver missing off the Cape coast.
A police helicopter was sent to help in the search, but the diver's mother later told them that police had detained her son, Mr Lambinon said.
He said the man had been arrested for allegedly diving without a permit.
The National Sea Rescue Institute put together a search squad - including a police diving unit and a helicopter fitted with a thermal imaging detector - after an emergency call from the 42-year-old diver's friend, Mr Lambinon said.
The friend was anxious that although darkness had fallen, the diver had not returned from Cape Town's St James beach, he said.
"Fortunately, the mother of the missing man informed us that her son had just called her and that he was locked up in the cells of a police station after apparently being arrested by law enforcement agencies for allegedly being found diving in a protected marine reserve without a permit," Mr Lambinon said.
"All rescue resources were stood down as they were no longer required and the man's friend was relieved to find out that he was alive and well."
Related Internet Links
The BBC is not responsible for the content of external sites.