South Africa reopens 1999 arms deal investigation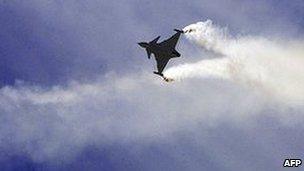 South Africa's government has announced it is reopening an inquiry into a 1999 arms deal that has been surrounded with corruption allegations.
President Jacob Zuma's office announced a commission of inquiry would be set up, but gave no further details.
Mr Zuma's former financial adviser Schabir Shaik was jailed for soliciting bribes from a firm linked to the deal.
Mr Zuma was investigated for corruption over the deal, but the case was dropped before he took office in 2009.
His supporters have always maintained that he had been the victim of a political smear campaign.
The multi-billion dollar deal - post-apartheid South Africa's largest such transaction - was intended to modernise its national defences.
It involved companies from Germany, Italy, Sweden, Britain, France and South Africa.
But corruption allegations swirled around the deal from the start.
Shaik was jailed for 15 years in 2005 for soliciting a bribe from Thint, the local subsidiary of French arms company Thales.
Another official, Tony Yengeni, who was the chairman of parliament's defence committee at the time of the deal, was convicted of fraud in 2003.
Allegations that British firm BAE had a slush fund used to bribe politicians have been widely reported in South Africa.
BAE has consistently denied the claims, and said it would co-operate fully with the new inquiry.
Thursday's statement from the president's office said Mr Zuma had "taken into account the various developments around this matter and also the fact that closure on this subject will be in the public interest".
The opposition Democratic Alliance urged Mr Zuma to give the commission a "full scope to investigate any and all aspects of the arms deal and have the powers to subpoena witnesses and documentation".
BBC Southern Africa correspondent Karen Allen says that although the inquiry is being broadly welcomed by the opposition and campaign groups, many question the timing.
ANC youth league leader Julius Malema, once an ally but now an irritant to Mr Zuma, is mid-way through a disciplinary hearing and had threatened to re-open the arms deal question, she says.
There is also a pending constitutional court challenge pushing for an independent inquiry into the arms contracts.
Related Internet Links
The BBC is not responsible for the content of external sites.