British tourist kidnapped in Kenya 'held by al-Shabab'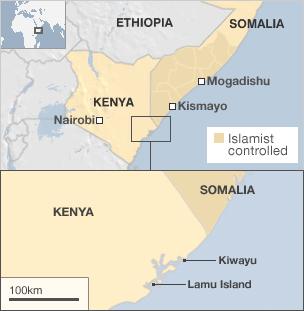 Somalia's government says it believes a British tourist kidnapped in Kenya is being held by the Islamist insurgent group al-Shabab.
Judith Tebbutt, 56, was kidnapped by gunmen from a remote Kenyan resort at Kiwayu, north-east of Lamu island.
The gang also shot dead her 58-year-old husband, David Tebbutt.
Somalia's defence minister, Hussein Arab Issa, said Mrs Tebbutt, from Hertfordshire, had been taken across the border into Somalia by al-Shabab.
But the Somali government has not ruled out the possibility that another group might be holding her.
Kenyan military helicopters were on patrol on the north Kenyan coast on Friday, flying directly over the safari lodge where the couple were attacked.
British police, some wearing white forensics suits, have been combing the scene for clues.
There are unconfirmed reports that Mrs Tebbutt is near to the southern Somali port of Kismayo which lies in an area controlled by al-Shabab - although it is not thought this necessarily means she is being held by the al-Qaeda-linked group.
BBC East Africa correspondent Will Ross said the ideas and aims of al-Shabab's followers varied.
It is possible that Mrs Tebbutt's captors have no political agenda but are aiming, along with pirates and their financiers, to make as much money as possible from a ransom.
The Somali government has said it was doing everything in its power to gain her release.
But if she was in al-Shabab territory the Mogadishu regime would need assistance from other countries, our correspondent said.
The UN-backed government controls the Somali capital, Mogadishu, but little other territory. Al-Shabab dominates most southern and central areas.
Our correspondent said very few facts were known about what happened to Mrs Tebbutt after she was taken away by an armed gang in a speedboat.
After the arrest of at least one Kenyan man there is speculation that the gunmen were a mix of Kenyan and Somali nationals.
The couple come from Bishop's Stortford and their son Oliver lives in Watford.
Prime Minister David Cameron said: "We are doing everything we possibly can on this desperately tragic case."
Somalia has been wracked by fighting between various militias for two decades, so weapons are widely available and there are many armed groups who could be responsible.
Correspondents say al-Shabab has not previously seized foreigners far from its own territory, while the numerous pirate gangs normally kidnap ships and their crew for ransom rather than operating on land.
Related Internet Links
The BBC is not responsible for the content of external sites.