Q&A: Judith Tebbutt's kidnap in Kenya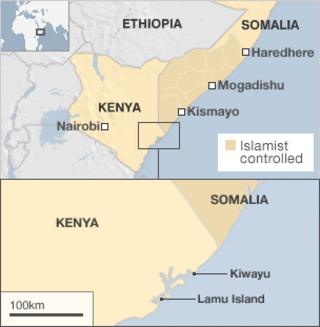 A British woman, Judith Tebbutt, has been kidnapped from her luxury resort in Kenya, near the border with lawless Somalia, and her husband shot dead.
Who might have taken her?
Most fingers are pointing in the direction of Somalia, about 50km (30 miles) north of the luxury resort in Kiwayu, north-east of Lamu Island, however it is quite possible that Kenyan bandits could be responsible.
Within Somalia, there are three possibilities: The al-Qaeda-linked al-Shabab group; pirate gangs or another criminal group.
The Somali government, which only controls the capital, Mogadishu and a few other areas, says it believes al-Shabab is responsible. The group itself has denied the claims.
Somali experts point out that al-Shabab usually does own up to the attacks it carries out.
There have been unconfirmed reports that she is in or close to the southern Somali port of Kismayo, which lies in an area controlled by al-Shabab.
More recent reports say she was seen near Haredhere, known as a base for pirates and in the region where British couple Paul and Rachel Chandler were held for almost 400 days before they were released last year.
Why would anyone want to kidnap Mrs Tebbutt?
The obvious answer would be for a ransom payment but there has been no suggestion of such a demand being made.
Pirate gangs based in Somalia make millions of dollars a year by seizing ships and their crew and holding them until they are paid. It is possible that one of these gangs has decided to operate on land as well - and the kidnappers are reported to have escaped by speedboat.
If not a pirate gang, another possibility is that another armed gang, either based in Somalia or Kenya, might have decided that kidnapping Westerners would be an easy way of making money in an area of extreme poverty made worse by an acute drought and awash with weapons.
Several Westerners, such as aid workers and journalists, have been kidnapped in Somalia in recent years before being released, usually in exchange for money.
Al-Shabab, however, would be a different matter.
They are not known to have sought money for their hostages - some of whom have been held for several years.
It is possible that the al-Qaeda-linked group could seek a Western hostage to try to exert influence over Western leaders and their local allies, such as the Somali government.
Islamist militant groups have done this elsewhere in the world. However, al-Shabab is not known to have adopted this tactic in the past.
Why can't the UK go and rescue her?
If she is in Somalia, that would be very difficult.
Most southern and central areas of the country are controlled by al-Shabab and its allies, who do not even allow many aid agencies in to help local people suffering from famine.
A Western intervention force would raise talk of recolonisation, with the possibility of ordinary Somalis - many of whom are armed - mobilising against the foreigners.
The US sent forces to Somalia in the 1990s but withdrew after the incident which sparked the Black Hawk Down film.
A snatch squad of Special Forces might be a possibility but it would need to be very well planned. The US has carried out some operations in recent years - to kill al-Qaeda operatives it accused of links to terror attacks.
If she is still in Kenya, a rescue mission should be more straightforward but north-eastern Kenya is also a remote, sparsely populated area where it would be relatively easy for an armed group with good local knowledge to hide one woman.
So what happens now?
Patience is probably the best option.
British police officers have been sent to Kenya to help with investigations.
Officials from the UK, Kenya and Somalia will be using all their local contacts to gather information about which group might be holding Mrs Tebbutt, 56.
Once that is established, negotiations can begin.
But these can take a long time, as the case of the Chandlers shows.
The UK has a strict policy of not paying ransoms, arguing that it only encourages more kidnapping. In the case of the Chandlers, it is believed that the Somali community in the UK helped raise money for their release.
The Chandlers were of a similar age to Mrs Tebbutt when they were seized and although they said they were occasionally beaten and their experience was obviously very traumatic, they did survive a year in captivity.
If the motive is a ransom, the kidnappers obviously have an interest in keeping their hostage alive and well. However, they did shoot dead her husband David during the kidnap and so must be handled very carefully.