China's stake in Zambia's election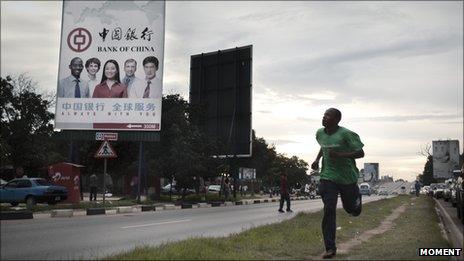 If you want proof that China has arrived in Africa, look no further than Zambia, which is gearing up for parliamentary and presidential elections on Tuesday.
Its capital Lusaka has recently become the first African city to offer Chinese currency banking services.
The city's Bank of China branch now handles counter deposits and withdrawals in yuan.
It is expected longer term that Chinese businesses operating in Zambia will start using the currency amongst themselves to reduce the amount of commission paid when changing from the Zambian kwacha via the US Dollar.
Qi Wang, the bank's assistant general manager, explained the service in yuan (also known as renminbi) was aimed at Chinese investors working in Zambia, but also Zambians importing goods from China.
"As a bank, we make money through transactions where you change currencies, but we think it is in the best interests of our clients and trade that we remove this additional layer and currency and make it more convenient for our clients," he said.
Although China's relationship with Zambia dates back to the building of the Zambia to Tanzania Railway in the 1970s, it is in the last 10 years that Sino-Zambian trade has really taken off, growing from just $100m (£63m) in 2000 to $2.8bn last year.
Chinese election lollipops?
But in the run-up to the polls questions are being asked about just how far China's influence in Zambia spreads, and if Chinese money is bankrolling the incumbent presidential candidate Rupiah Banda and his party the Movement for Multiparty Democracy (MMD).
Beyond the claims that the Banda-branded lollipops being given out to potential voters by the MMD were made in China, the sheer scale of the ruling party's campaign has raised many eyebrows about funding sources.
Neo Simuntanyi, director of the left-leaning Lusaka-based think tank Centre for Policy Dialogue (CPD), told the BBC that Zambian party financing was totally opaque and it was hard to really know where money was coming from.
"Although there's no way to prove it, there are a lot of suspicions that the MMD is maybe benefiting from Chinese support just because of the sheer scale of their campaign," he said.
"The MMD has never had that kind of money before and you can see that in how well-oiled their campaign machine has been and how big their presence is everywhere around the country."
Muhabi Lungu, an MMD parliamentary candidate and former head of Zambia's overseas investment organ, Zambia Development Agency, (ZDA), played down claims that his party had received Chinese funding.
"I don't believe that to be true," he said. "We have raised our money from donations from Zambians and people in business, both of whom are happy with our performance in government and want that to continue.
"I think these allegations come from an opposition which has had no campaign presence to speak about and which is really feeling the size of the MMD campaign."
Mr Simuntanyi suggested that it was in the interest of Chinese companies to keep the MMD in power, in order to maintain the favourable - or as some would say preferential - investment climate they have enjoyed in Zambia in recent years.
China's main area of interest is mining, having bought up on the cheap a number of copper, cobalt and nickel mines, which had been mothballed by Western investors when commodity prices fell.
Beyond mining and manufacturing, there is also growing Chinese presence within Zambia's retail sector, from imported textiles and electronics, to chickens farmed locally and sold in city markets.
The country is also home to two of China's six African Special Economic Zones (SEZs) one in Chambishi near Kitwe in the Copperbelt, and the other just outside Lusaka.
These are designated geographic areas with liberal policies and tax incentives to attract foreign companies.
Although there have been repeated allegations - and in some cases hard evidence - of poor labour conditions and low salaries in Chinese-run mines and factories, the Zambian government remains happy with its new friend because the investment has driven economic growth to almost unprecedented levels.
The MMD's main opposition, Michael Sata's Patriotic Front (PF), has in the past been very critical about Chinese labour conditions, and although the party has disputed media reports it is anti-Chinese, if elected, it is likely to shake up the way contracts are awarded.
And Given Lubinda, a PF parliamentary candidate, said the size of the ruling party's campaign had been surprising.
"All of sudden they seem to have so much money - whether or not it's coming from the Chinese, we don't know, but for all that and the advantages they have had through the state-owned television and newspapers, we at the PF have the people," he said.
"Everywhere we go, the response has been incredible and the overwhelming mood from people on the street is that Zambians want change and that will come with the PF, not from the MMD."
The election will be Zambia's fifth since the advent of multi-party democracy in 1991 when Kenneth Kuanda's United National Independence Party was ousted by the MMD.
It is likely to be a very close call between the MMD and the PF - Mr Banda only beat Mr Sata by 35,000 votes in the 2008 by-election, called following the mid-term death of Levy Mwanawasa.
With its promises of jobs and better education, the PF is hoping to win over young voters and the urban poor.
The MMD meanwhile is campaigning on the back of its infrastructure investment - new schools, roads and hospitals - agriculture input programmes, which have led to bumper harvest, and the mine-driven economic growth which has averaged 5.6% since 2001, according to the World Bank.
With the two main presidential candidates in their mid 70s, it is expected it will be their last election, which makes the stakes even higher.
Although the country has little history of political violence - apart from street riots in the final months of independence leader Kenneth Kaunda's rule, when the economy had collapsed - there are some concerns that the closeness of the race this year could raise tensions.
While China and its role in the country has been less of an issue during this campaign compared with previous years, the Chinese investors are likely to watch very closely who emerges victorious when the results are announced on Friday.
Related Internet Links
The BBC is not responsible for the content of external sites.