Mozambique holds US and British 'pirate hunters'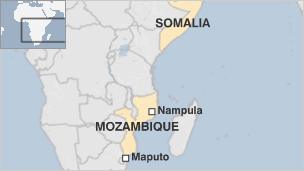 Four Americans and one Briton who say they were trying to free a boat seized by pirates have briefly been detained in Mozambique on suspicion of possessing illegal weapons.
They were held at the airport in the city of Nampula on Friday, police said.
The men from the US security firm GreySide were questioned and quickly released after the authorities "found no wrongdoing", the company later said.
It said that the team was carrying ammunition legally.
"As a security firm operating globally we take every step to ensure all proper licenses are obtained prior to conducting international missions on behalf of our clients," GreySide said in a statement.
The US embassy said the group had no connection to the US government.
Mozambique's police named the leader of the group as 42-year-old US citizen Michael Ferguson. He has not commented to the press.
The group had reportedly flown from the United States via Ethiopia and Kenya, where they picked up the weapons.
Mr Ferguson reportedly said their plan was to catch small boats in the northern Mozambican coastal city of Pemba before joining a larger vessel and trying to free the boat from pirates - it is not clear which ship they were allegedly trying to rescue.
Somalia-based pirates have attacked ships across the Indian Ocean, earning millions of dollars from ransom payments.
Four Britons, who say they were trying to provide protection from pirates, were released by Eritrea in June after six months in captivity.
Related Internet Links
The BBC is not responsible for the content of external sites.