Zambia election: Rupiah Banda faces Michael Sata threat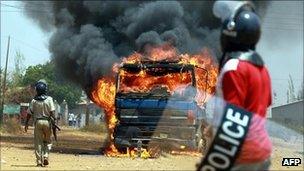 Millions of Zambians have been voting in what is expected to be one of the country's most fiercely contested elections.
There have been delays and clashes in the capital, Lusaka but observers say the vote has been relatively smooth.
President Rupiah Banda is expected to face his strongest challenge from Michael Sata.
Since the last vote in 2008, an extra one million people have registered to vote - many young and unemployed.
Polls were due to close at 18:00 local time (16:00 GMT), but the electoral commission said voting would be extended in polling stations that opened late.
Some 5.2 million people - the highest on record - are on the electoral register for these presidential, parliamentary and local elections.
High copper prices have boosted economic growth but many ordinary Zambians say they have not benefited.
Thousands of policemen have been deployed to prevent violence and the sale of axes and other potential weapons has been banned during the election period.
Mr Banda defeated Mr Sata by just 35,000 votes in the 2008 election, which sparked rioting by some opposition supporters in their urban strongholds.
A police spokeswoman said order had been restored on Tuesday afternoon following violence after reports that a man had been found with pre-marked ballot papers.
A truck delivering ballot papers was blocked from entering the densely-populated township of Kanyama and some of its materials grabbed and strewn across the street.
Election officials later denied the reports of pre-marked papers but admitted they were unsure how many ballots had been taken and whether they would be able to source more for that constituency.
Some of Mr Banda's advertising hoardings were set on fire.
Many people were also angry that polling stations opened late.
At least four people have been arrested, police say.
Fake nails and indelible ink
International election observers have also played down the reports of violence, saying incidents were isolated and short-lived.
"So far, the reports we have is that everything is going in a peaceful manner, in a calm way," Chief European Union election observer in Zambia Maria Muniz De Urquiza told the BBC.
The BBC's Mutuna Chanda in the capital, Lusaka, says the queues stretched for 2-3km in some of the polling stations he visited and overall voting across the country has been peaceful.
One woman told the BBC she was ordered to remove her false nails before she could vote as electoral officials said she would be able to take off the thumb nail which is being marked to indicate that people have cast their ballot.
But another voter, Zarino Geloo in Lusaka, posted on the social media site Facebook that she was allowed to vote with her nails: "The polling agent drew a ghastly black line of indelible ink under my beautifully done acrylic nails… urrggh ghastly but I have managed to get rid of it by putting my thumb in lime juice.
"No way is someone going to tell me to 'remove' my nails, do they know how much they cost?" she then told the BBC.
Crowds of youths chanting "We want change, we want change" greeted Mr Sata as he arrived to vote in Lusaka, Reuters news agency reports.
"If things are free and fair, we are very confident. What's most important is Zambians are very alert in this election," AFP quotes him as telling reporters after voting.
But Agnes Ngoma, 57, who has a farm near the capital, said Mr Banda's economic stewardship should be rewarded.
"I think the current government has performed very well, exceeded our expectations. There's a lot of infrastructure that's been built - roads, hospitals, schools. The economy is booming," she told AFP.
Mr Banda has campaigned on this platform - the economic growth largely spurred by Chinese investments and the government's decision to scrap a windfall tax of 25% on mining companies.
He urged Zambians to express their frustrations through the ballot box rather than on the streets. "Voting is louder than words," Reuters quotes him as saying after casting his ballot in near the town of Chipata, 600km (400 miles) east of Lusaka.
Mr Sata has promised to re-introduce the windfall mining tax and to promote policies that will bring greater benefit to poor people.
More than 60% of Zambians live on less than $2 a day.
On the eve of the vote police chief Francis Kabonde said his officers would arrest anyone carrying axes, machetes and other weapons.
The election commission spokesman Chris Akufuna said a "transparent system" was in place "where there will not be any space or chance for anyone to manipulate".
Eight other candidates are contesting the presidency.
Voters are also electing 150 members of parliament and more than 1,000 local councillors. The first results are expected late on Wednesday.
Related Internet Links
The BBC is not responsible for the content of external sites.