South Africa gold miners sue Anglo American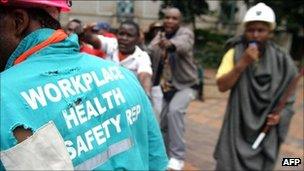 Former gold miners in South Africa are suing industry giant Anglo American in the London High Court for allegedly damaging their health, their lawyers say.
The ex-workers contracted lung diseases because of bad ventilation in the UK-based company's South African mines, their lawyers allege.
They are demanding compensation of millions of dollars.
Anglo American says it is "in no way liable" and is defending the claims.
The firm said it had denied liability in answer to similar claims filed in South African courts, and maintains that "these gold companies which employed the mine workers were responsible for the health and safety of their employees and took reasonable steps to protect them".
The 450 ex-miners allegedly suffered from silicosis - an incurable lung disease - because of high dust levels in mines, said Leigh Day & Co, the London law firm representing them.
The case was being fought in the London High Court because the company's headquarters was in the city, it said.
"Black miners at South African mines undertook the dustiest jobs, unprotected by respirators or - unlike their white counterparts - with access to on-site showers," the firm said, in a statement.
"Dust levels were high and they suffered massive rates of silicosis, a known hazard of gold mining for the last century."
Leigh Day & Co said the workers faced the health risks up to 1998 - four years after white minority rule ended.
"Black miners known to have contracted silicosis were allowed to continue working in underground dusty conditions," it said.
The law firm alleged that workers from South Africa's Eastern Cape province and neighbouring countries, including Lesotho and Botswana, had fallen ill.
"Communities in areas of Eastern Cape and Lesotho have been decimated by what one leading South African medical expert has referred to as a river of disease flowing out of South African gold mines," it said.
The firm said the case was similar to the one South African asbestos miners brought about a decade ago against UK multinational, Cape Plc.
"There are striking similarities between this silicosis public health disaster and the asbestos scandal in which 7,500 South African asbestos miners.... successfully sued Cape Plc," it said.
South Africa practised the system of apartheid, which discriminated against black people, until 1994.
In recent years, Leigh Day & Co has launched several compensation suites in Africa.
The firm has sued oil giant Shell over environmental degradation in Nigeria, transport firm Trafigura over the dumping of waste in Ivory Coast and the UK government for alleged human rights abuses during the colonial period in Kenya.
Shell admitted liability, Trafigura denied any wrongdoing but agreed compensation with both the Ivory Coast government and Abidjan residents who said they became sick, while the UK-Kenya case is ongoing.
Related Internet Links
The BBC is not responsible for the content of external sites.