Swiss court orders retrial of Nigeria's Abba Abacha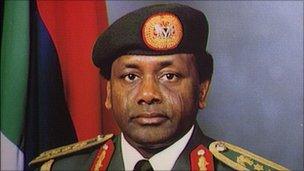 Switzerland's highest court has ordered the retrial of the son of former Nigerian military ruler Sani Abacha.
Abba Abacha was given a two-year suspended sentence in June 2010 for taking part in a criminal organisation, and his assets were confiscated.
The retrial was ordered because he had been unable to get a Swiss visa to attend the trial.
Nigerian state lawyers believe Sani Abacha, who ruled from 1993 to 1998, may have stolen $2.2bn (£1.3bn).
After his father's death in 1998, Abba Abacha and other members of the family controlled the funds.
Nigeria asked the Swiss government in 1999 to help it recover the money, much of which was thought to be hidden in Swiss banks.
Switzerland has so far handed back about $700m to Nigeria.
Abba Abacha was ordered to return $350m of illegally gained assets at his trial last year in the police court in Geneva.
But the Swiss Federal Tribunal annulled the sentence and ordered the retrial on the grounds that Mr Abacha's rights had been violated and because of procedural irregularities.