Kenya election violence: Uhuru Kenyatta at The Hague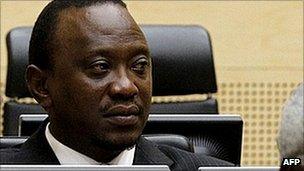 Kenya's deputy prime minister is to testify at the International Criminal Court (ICC), where he faces charges of crimes against humanity.
Judges will consider whether to allow Uhuru Kenyatta's prosecution over links to violence which killed 1,200 people after the country's election in 2007.
Ex-police chief Hussein Ali and the head of the public service Francis Muthaura also deny the allegations.
Three other Kenyans have also been accused over the violence.
They supported Prime Minister Raila Odinga in 2007, while Mr Kenyatta and the two others backed his rival, President Mwai Kibaki.
More than 500,000 people fled their homes in the violence which followed the elections and often took on an ethnic dimension.
Mr Ocampo alleges that a criminal plan was put in place in the Rift Valley for those seen as supporters of President Kibaki to be attacked after the election.
In retaliation, he says, police were given the green light to use excessive force and an outlawed vigilante group was organised to attack civilians.
BBC East Africa Correspondent Will Ross says the decision by Mr Kenyatta, 49 - son of the country's first president Jomo Kenyatta - to testify in person is significant because it would be the first time a suspect has done this at the pre-trial stage at the ICC.
He notes that Mr Kenyatta hopes to stand in next year's elections and the case could have a major impact on the future of Kenyan politics.
The prosecutor alleges that attacks by the banned Mungiki vigilante group were planned during a meeting at State House. For that reason many Kenyans will be keenly following the proceedings to see if the president's name comes up, our correspondent says.
Mr Kibaki has denied that the meeting took place.
Earlier this month two ex-Kenyan ministers William Ruto and Henry Kosgey, as well as radio executive Joshua Arap Sang, appeared to face pre-trial hearings over their alleged part in the violence.
The men, all supporters of Mr Odinga's opposition Orange Democratic Movement, denied involvement in attacks on members of Mr Kibaki's Party for National Unity and his Kikuyu ethnic group in the Rift Valley.
Kenya last month lost an appeal to try the six men in Nairobi, rather than than at the ICC in The Hague.