Zambia poll: Riots in Kitwe and Ndola over slow results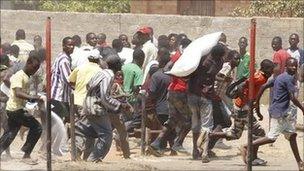 Riots have broken out in two towns in Zambia's northern mining region where opposition supporters are impatient for the results of Tuesday's polls.
The Copperbelt province police chief said people were on the streets of Kitwe and Ndola throwing stones.
A BBC reporter says the anger has been prompted by a ban on the media from announcing results not verified by the electoral commission.
President Rupiah Banda is facing his strongest challenge from Michael Sata.
The BBC's Mutuna Chanda in Lusaka, 300km (185 miles) south of Kitwe, said news of the riots reached the capital by mid-morning and the city centre is deserted because of fears of violence.
An armoured truck dropped off riot police at the electoral counting centre, he says.
National police chief Francis Kabonde told journalists in Lusaka that anyone involved in violence would face the law.
"You will definitely be arrested and I must advse you [that] you will not be protected," he said.
In Kitwe, protesters set a market alight overnight and police have set up barricades in the city's township of Wusaikile.
"We are trying to handle the situation. We have riots in Kitwe and Ndola," regional police chief Martin Malama told AFP news agency.
Army troops have also been deployed in Kitwe, our reporter says.
There have also been reports of skirmishes in the town of Nakonde, which borders Tanzania.
On Wednesday evening, electoral commission head Ireen Mambilima said that the commission's website had been hacked - it was stating that 133 constituencies had been counted when only 33 had been released at the time.
The latest results put Mr Sata ahead with 44% of the vote to Mr Banda's 36%, with 116 of the country's 150 constituencies counted.
Mr Banda defeated Mr Sata by just 35,000 votes in the 2008 election, which sparked rioting by some opposition supporters in their urban strongholds.
Since the last vote in 2008, an extra one million people have registered to vote - many young and unemployed.
Our reporter says final results were due to be declared by 16:00 GMT on Thursday, but the count is still ongoing.
'Transparent and credible'
International election observers have criticised Zambia's ruling Movement for Multiparty Democracy for abusing state resources during its campaign and noted serious media bias on behalf of the state broadcaster.
European Union Chief observer Maria Muniz said there had not been a level-playing field for all parties during the campaign.
She also noted some problems and delays in polling stations with isolated outbreaks of violence.
But she said overall the election had been generally well-administered and was so far, in the view of the mission, transparent and credible.
A full report would be produced within two months making a number of recommendations to the Electoral Commission of Zambia, she said.
Wynter Kabimba, secretary general of the opposition Patriot Front (PF), told the BBC that the party believed the results were being deliberately delayed because the government knew they had lost the election.
The MMD has ruled Zambia for 20 years and this is the fourth time that PF leader Mr Sata has run for the presidency.
Related Internet Links
The BBC is not responsible for the content of external sites.