Uganda author Vincent Nzaramba: Anger at 'police abuse'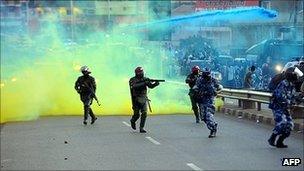 A Ugandan author has accused police of assaulting and threatening to kill him after detaining him for a controversial book about President Yoweri Museveni.
Vincent Nzaramba told the BBC he was unlawfully detained for five days for publishing People Power - Battle the Mighty General.
A police spokesperson said Mr Nzaramba had been interrogated for incitement.
This year Uganda has been hit by a series of protests against Mr Museveni's 25-year rule.
Mr Nzaramba said police arrested him on Saturday after ransacking his home in the capital, Kampala, and confiscating copies of his book, laptop and phone.
"I was arrested without an arrest warrant, which is illegal.
"I was beaten up. I was flogged. They told me: 'Don't you know we can kill you?'," he told the BBC's Network Africa programme.
Police spokesperson Judith Nabakooba confirmed that Mr Nzaramba, who was released on Wednesday, had been "interrogated" over the book.
"It's not the first time we are holding people for inciting material," she said.
Mr Nzaramba told the BBC he doubted that the police had read the book, which has a photograph of President Museveni in his military attire with the words "he is finished" underneath.
The book advocates peaceful change and he had been inspired by US civil rights activist Martin Luther King and Indian pacifist Mahatma Gandhi when he wrote it, he said.
"Every dictator fears this concept [of peaceful resistance]. It sweeps dictators away faster than any other concept," Mr Nzaramba said.
Earlier this year, Mr Museveni - who won controversial elections in February - warned that he will not tolerate an Egypt-style uprising.
Nine people were killed in April after security forces intervened to end an opposition protest about the rising cost of living.
Last year, police impounded a consignment of the book, The Correct Line? Uganda under Museveni, authored by Olive Kobusingye, a sister of opposition leader Kizza Besigye.
Related Internet Links
The BBC is not responsible for the content of external sites.