Michael Sata: Zambia's 'King Cobra' finally strikes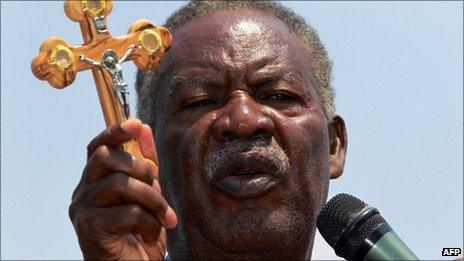 Michael Sata, nicknamed "King Cobra", has finally achieved his dream of becoming president.
He was fourth time lucky, beating the incumbent Rupiah Banda after his three previous attempts to take power failed.
Mr Sata, 74, portrays himself as "a man of action" but his critics have portrayed him as nothing but a thug.
Many Zambians see him as a man who gets things done, from his time as a minister in the governments of two former presidents - Kenneth Kaunda and the late Frederick Chiluba.
His nickname conjures up two views on him - ready to strike or slippery and dangerous.
He once belonged to the United National Independence Party (Unip), then led by Mr Kaunda, before switching to the late Mr Chiluba's Movement for Multiparty Democracy (MMD).
When the MMD thwarted his presidential ambitions, he broke away to form the Patriotic Front (PF) which has now propelled him into State House.
His membership of the two former ruling parties has given him experience in government.
Some recall that when he was local government minister, the country's roads were clean and the councils worked properly.
He later served in the health ministry, where he once more shook things up.
But others associate him with political thuggery after his days as minister without portfolio, a position the man himself admitted at the time "was the ministry for the MMD [ruling party]".
The gravelly voiced veteran has an abrasive style, unsuited to the refined diplomacy of international politics, his critics say.
They argue that he has already damaged Zambia's international standing just by his campaign.
The Zambian currency, the kwacha, dropped to a 12-month low against the US dollar following Mr Sata's victory.
He is known to be hostile to Chinese investors and has in the past threatened to deport them, along with Indians and Lebanese accused of mistreating Zambian workers.
Before the 2006 poll, Beijing warned that it would cut diplomatic ties with Zambia if Mr Sata won.
At the time, there were reports - denied by Mr Sata - that Taiwanese businessmen backed him.
In this poll, there were unconfirmed reports that Chinese businessmen funded Mr Banda in an attempt to keep Mr Sata out of power.
Analysts say Mr Sata toned down his anti-Chinese rhetoric in the final weeks of the campaign, but he is bound to push for business deals to be renegotiated and for working conditions in Chinese-owned companies to be improved.
In the 2006 poll, he also praised neighbouring Zimbabwe's President Robert Mugabe's policy of seizing white-owned land.
"Mugabe hasn't done anything wrong. It is the imperialists, the capitalist-roaders who say he is a villain," he said, at the time.
"The people of Zimbabwe are not suffering. They are much happier."
Analysts say Mr Sata has a poor relationship with another neighbouring leader, Malawi's President Bingu wa Mutharika.
In 2007, Malawi detained and deported Mr Sata after he tried to enter the country.
His deportation followed allegations - which he strongly denied - that he was plotting a coup in Malawi, where he had close ties with ex-President Bakili Muluzi.
A Catholic married to a doctor, Mr Sata was born and brought up in Zambia's Mpika, Northern Province.
He worked as a policeman, a railwayman and trades unionist before entering politics in 1963.
During one-party rule, he worked his way up through the rough-and-tumble rank-and-file of Mr Kaunda's Unip party to the governorship of Lusaka in 1985, where he made his mark as an action man.
He went on to join the late Mr Chiluba in setting up the MMD in the late 1980s to campaign for multi-party democracy.
After Mr Chiluba defeated Mr Kaunda in 1991, Mr Sata became one of Zambia's most instantly recognisable faces, as the MMD's national organising secretary.
However, when Mr Chiluba nominated Levy Mwanawasa as MMD presidential candidate in 2001, Mr Sata left and set up the PF.
He contested the 2001 elections but did not do well: He won less than 4% of the vote. In 2006, he increased his vote to 29%.
In 2008, he came close to victory, losing to Mr Banda - who was the MMD candidate after Mr Mwanawasa's death - by a mere two percentage points.
Finally, Mr Sata won the presidency in this week's poll, beating Mr Banda by a clear margin.
Analysts say young people, hungry for change after two decades of MMD rule, tilted the balance in his favour.
Now, the septuagenarian will have to fulfil his promise of creating jobs for them and tackling poverty in a country where more than 60% of the population lives on less than $2 [£1.29] a day.
Related Internet Links
The BBC is not responsible for the content of external sites.