Zambia election: Michael Sata takes presidential oath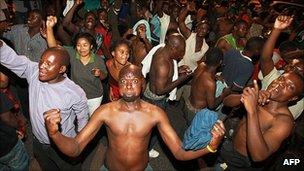 Zambian opposition leader Michael Sata has been sworn in as president after beating incumbent Rupiah Banda in a tightly contested election.
Mr Sata, who had run for the presidency four times, was declared the winner with 43% of the vote.
"The people of Zambia have spoken and we must all listen," Mr Banda told journalists, wiping away tears after finishing his speech.
His Movement for Multiparty Democracy (MMD) had ruled Zambia for 20 years.
Mr Banda was booed was by Mr Sata's supporters at the inauguration ceremony in the capital, Lusaka.
Mr Sata - the candidate of the Patriotic Front (PF) party - was sworn in by the Chief Justice Ernest Sakala and handed the ceremonial presidential flag by Mr Banda.
He said he would fulfil his electoral promises, including forcing foreign companies to improve working conditions.
"I promise to put Zambia first," he told thousands of people at the ceremony in Lusaka.
Mr Sata said he would reduce the size of government and tackle corruption.
"Corruption has been a scourge in this country and there is a wide link between corruption and poverty," he said.
Mr Banda told the BBC's Focus on Africa programme that he attended the ceremony to "greet my friend [Mr Sata] and to show the country that's how we should pass the mantle.
"Deep inside me, I feel some kind of relief that this is over and this has been done in a democratic and civilised way," he said.
He said previous Zambian presidents had accepted electoral defeat and "I did not want to be the first one to disturb our democratic process".
On Thursday, there had been riots in the country's northern mining region by opposition supporters impatient for the results of Tuesday's polls.
The BBC's Louise Redvers in the capital, Lusaka, says with the declaration of Mr Sata's victory, the tension in the results centre dissolved into screams as PF supporters celebrated their win.
Thousands of people flocked outside the heavily guarded gates banging drums, beeping horns and waving flags.
Mr Sata, who reportedly used to sweep floors at London's Victoria Station, has had a lengthy career in politics.
He served as an MMD minister for local government, labour and social security, and health before quitting in 2001.
Known as "King Cobra" for his venomous tongue, he has frequently criticised foreign mining firms - often from China - about labour conditions.
While the party has disputed media reports that it is anti-Chinese, his election is likely to shake up the way contracts are awarded, our correspondent says.
During the campaign, Mr Banda had highlighted the economic growth largely spurred by Chinese investments and the government's decision to scrap a windfall tax of 25% on mining companies.
Mr Banda said that after the inauguration ceremony, he would go home to spend time with his family.
"I'll just play a little bit with my children. They give me solace," he said.
Mr Sata has promised to re-introduce the windfall mining tax and to promote policies that will bring greater benefit to poor people.
More than 60% of Zambians live on less than $2 [£1.29] a day.
Related Internet Links
The BBC is not responsible for the content of external sites.