DR Congo election: Talks aim to avert election violence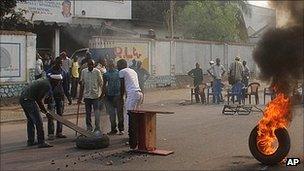 Major political parties from the Democratic Republic of Congo have begun two days of talks aimed at preventing violence during this year's election.
The presidential poll is on 28 November - previous elections have been marred by conflict that has cost many lives.
Delegates are in the Ethiopian capital, Addis Ababa, for talks organised by the African Union and the Institute for Peace and Security Studies.
The election build-up has been affected by claims of voter registration fraud.
Earlier this month, police used tear gas to disperse hundreds of his supporters who marched on the electoral commission building in protest at the alleged fraud.
Opposition parties have criticised changes to the polling system aimed at electing the president in one round, which they say favour incumbent Joseph Kabila.
The government says it only wants to avoid a repeat of clashes that marred a 2006 run-off won by Mr Kabila, who has been in power since 2001.
However, leading opposition candidate Etienne Tshisekedi, of the Union for Democracy and Social Progress, has called for an audit of the electoral register.
Recent violence has been attributed to tension between Mr Tshisekedi's group and Mr Kabila's People's Party for Reconstruction and Democracy.