Ivory Coast gets truth and reconciliation commission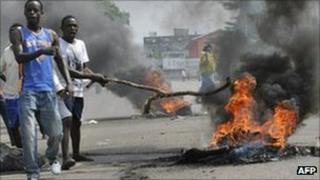 Ivory Coast has sworn in its Truth, Reconciliation and Dialogue Commission, aimed at forging unity after deadly violence that followed last year's disputed elections.
About 3,000 people were killed and 500,000 displaced in the unrest.
The commission is headed by former Prime Minister Charles Konan Banny.
The 11-member body includes religious leaders, regional representatives, and Chelsea footballer Didier Drogba to speak for Ivorians living abroad.
The commission is modelled on South Africa's Truth and Reconciliation Commission but it is not clear if it will be issuing amnesties and pardons, says the BBC's John James in Ivory' Coast's main city, Abidjan.
There are a lot of uncertainties about exactly how it will function, so soon after the violence ended earlier this year, says our correspondent.
Security has improved in most of the country and the economy has picked up, he adds.
The International Monetary Fund is forecasting economic growth of 8-9% for next year.
Gbagbo charges
President Alassane Ouattara inaugurated the commission at a ceremony in the political capital Yamoussoukro.
"We will have to tackle difficult questions such as the land issue in rural areas and identity questions," Mr Ouattara said at the ceremony.
Mr Ouattara took power in April after a months-long stand-off with his predecessor, Laurent Gbagbo.
Mr Gbagbo is now being held in the north of the country after being charged with looting, armed robbery and embezzlement in connection with the post-election unrest.
He refused to accept defeat in November's presidential poll, despite the UN declaring Mr Ouattara - his long-time foe - the winner.
The commission has three vice-chairmen - King Desire Amon Tanoe of the Nzima ethnic group, Catholic Archbishop Paul-Simeon Ahouanan of Bouake and Muslim High Council of Imams President Cheick Boikary Fofana.
Other members represent different regions of the country and include Professor Sery Bailly, a long-time ally of Mr Gbagbo.