South Africa denies Chinese pressure on Dalai Lama visa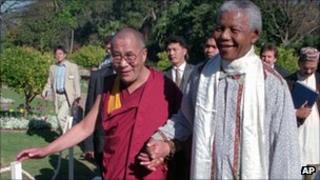 The South African government has denied it is under pressure from China to block a visit by the Dalai Lama.
The Tibetan spiritual leader is due to take part in Archbishop Desmond Tutu's 80th birthday celebrations in Cape Town next week.
But so far, he has not been granted a visa, although the government said it was under consideration.
The archbishop has criticised the government for "kowtowing to Chinese pressure".
Beijing views the Dalai Lama as a "splittist", although he has repeatedly stated that his goal is for Tibetan autonomy rather than independence.
A joint statement by the Office for Tibet in South Africa and the Desmond Tutu Peace Centre described the treatment of the two Nobel Laureates as "profoundly disrespectful".
The Office for Tibet in Pretoria said the paperwork was submitted initially in June and then again at the end of August.
It is questioning the continued delay a week before the Buddhist spiritual leader is due to join Archbishop Desmond Tutu for his birthday celebrations.
Pressure denied
The Dalai Lama was welcomed into South Africa during Nelson Mandela's presidency, but more recently has been denied entry as relations between China and South Africa strengthened.
South Africa's deputy president, Kgalema Motlanthe, is on a visit to China, but a spokesman for the South African Department for International Relations, Clayson Monyel brushed off suspicions that his government was under pressure.
"The visit of the deputy president has got nothing to do with the visa application of the Dalai Lama," Mr Monyel said. "There is absolutely no pressure from anyone whatsoever."
A spokesman for the Office of Tibet, Sonam Tenzing, said the South African foreign minister had previously given her assurance that there would be no discrimination against the Dalai Lama.
"Many South Africans felt that in the future we could welcome His Holiness and see him in our country."