Zambia's president replaces anti-corruption chief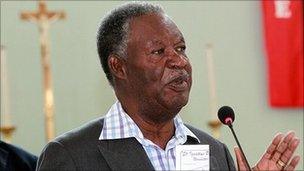 Zambia's newly elected President Michael Sata has dismissed the head of the country's anti-corruption watchdog.
A presidential statement said Godfrey Kayukwa would be replaced by Rosewin Wandi, without giving further details.
Mr Kayukwa is considered to be a close aide to former President Rupiah Banda, who lost last month's tightly-contested elections to Mr Sata.
During the campaign, Mr Sata pledged to stem out corruption among government officials.
And during the swearing-in ceremony last week he said: "Corruption has been a scourge in this country and there is a wide link between corruption and poverty."
The previous government was criticised for not being tough on tackling graft.
Related Internet Links
The BBC is not responsible for the content of external sites.