Somalia: Aid and accountability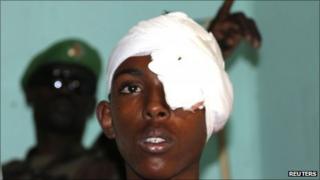 In the aftermath of Tuesday's spectacularly ruthless bomb attack in Mogadishu, I wanted to direct you towards this powerful article examining al-Shabab's "twisted ideology, repressive methods, and indifference to the suffering of its own people" in the face of Somalia's worsening famine, and calling for aid and accountability to go "hand in hand".
The author, a senior and experienced United Nations official, focuses on the importance of dismantling "Somalia's deadly culture of impunity".
"It may seem unrealistic today that leaders of al-Shabab would ever face trial, but the same could also once have been said about the leaders of the Khmer Rouge or the Bosnian Serbs," he writes.
"And those who have undermined and brought shame upon the transitional federal government and its affiliates by commodifying their own people, using them as lures for personal profit, are no less guilty and more readily accessible to the reach of international justice."
The outside world is now claiming some success in mitigating the impact of the region's drought.
But aid sources tell me those claims are overstated when it comes to reaching the starving both in Mogadishu and across much of southern Somalia.
I am told that experts who gathered recently to assess the conditions in Somalia were profoundly shocked by the latest malnutrition statistics and concerned that the death toll, particularly amongst children, is likely to rise sharply in the months ahead.