Q&A: Cameroon presidential elections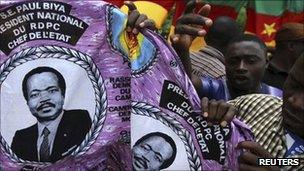 Cameroonians go to the polls on 9 October, with at least some of them hoping one of Africa's longest-serving heads of state will be unseated.
Few doubt that the 78-year-old incumbent, Paul Biya, will win another seven years in office. But 22 candidates are making a bid for the top job.
Nationwide protests erupted in 2008 when a controversial amendment to the constitution scrapped the limit to presidential terms, leaving dozens dead, and there have been worries that the coming elections could lead to conflict.
How has Mr Biya managed to stay in power so long?
Critics say the president uses a combination of techniques to keep himself in power, including rigged elections, corruption and violence.
Mr Biya took over from President Ahmadou Ahidjo in 1982.
Faced with popular discontent, he allowed multi-party presidential elections in 1992, which he won. He won again in the 1997 elections, which were boycotted by the three main opposition parties, and again in 2004.
Former AFP correspondent in Cameroon Fanny Pigeaud alleges in her recently published book "Au Cameroun de Paul Biya" (In Paul Biya's Cameroon), that the president manipulates the ethnic identities of the country's more than 100 groups, maintains divisions within the ruling elite and encourages corruption to protect his interests.
Africa Confidential's editor Patrick Smith says that critics are rare in Cameroon and are soon silenced.
However, Mr Biya is credited with keeping the country relatively stable.
Who is running against the president?
A divided opposition has failed to come up with a consensus candidate, which is why so many challengers are running against Mr Biya.
The most prominent among them, veteran opposition politician John Fru Ndi of the Social Democratic Front (SDF), has accused Mr Biya of stealing the vote in 1992. He ran and lost again in the 2004 polls.
Analysts say the combination of Mr Biya's willingness to leverage state resources to ensure his re-election and a weak and disorganized opposition, give the incumbent a strong advantage over his rivals.
Critics say Mr Biya has rigged the elections in advance through his tight control of the electoral commission (Elecam).
The opposition has alleged "a whole mountain of irregularities", including double entries or names missing in electoral rolls.
President Biya has denied this, declaring that the independence and neutrality of Elecam were guaranteed.
The elections will be monitored by the Commonwealth, as were the 2004 polls.
The opposition denounced the last elections as fraudulent. However, international observers said that despite some shortcomings, the voting was generally satisfactory.
Are there indications that the poll could turn violent?
The news of the president's intention to stay on for another term sparked nation-wide unrest in 2008.
Starting as a taxi-drivers' strike over high fuel prices, it soon turned into overtly political protests that left dozens dead.
Just 10 days before the elections a group of gunmen opened fire in the country's commercial capital, Douala, in an apparent anti-government protest.
Disqualified presidential candidate Bertin Kisob reportedly claimed responsibility on behalf of Cameroonian People's Liberation Army. He said they would carry out further actions "from time to time''.
The ruling party dismissed the incident as "the work of some isolated elements" insisting that "the campaign was going pretty well".
How has the government reacted to protests?
Security forces detained more than 200 people in a crackdown on protesters from the English-speaking minority who attempted to hold a banned rally a few days ahead of the election.
Earlier this year, the government ordered cell phone companies to suspend mobile services for Twitter after people used the social networking site to report the mass deployment of troops to prevent a "Drive Out Biya" march.
What are some of Cameroon's problems?
Thanks to its modest oil reserves and good agricultural conditions, Cameroon has the largest economy in Central Africa.
The country has one of the highest literacy rates in Africa, but its progress is hampered by rampant corruption.
Many poor Cameroonians blame Mr Biya for high youth unemployment and increasing income and wealth inequalities, citing political stagnation and resource-plundering by his colleagues.
In addition, the English-speaking minority in the south has long complained of being politically marginalised and neglected.
A secessionist movement, the Southern Cameroon National Council (SCNC), emerged in the 1990s and has been declared illegal.
What is the position of the international community?
Ms Pigeaud, in her book, accuses the international community, and former colonial power France in particular, of complicity with President Biya.
"To protect its economic interests, Paris helped him [Paul Biya] to stay in power after the 1992 presidential election, which he officially won but lost in reality, as some of his party's senior officials admit today."
However, some commentators believe that Mr Biya's days are numbered as, following the Arab Spring, western leaders apparently oppose heads of state who want to stay in power at all costs.
"The great men of the western world no longer want to consort with men who ruled the country while they were still in shorts," wrote Haman Mana in Cameroonian Le Jour Online.
BBC Monitoring selects and translates news from radio, television, press, news agencies and the internet from 150 countries in more than 70 languages. It is based in Caversham, UK, and has several bureaux abroad.
Related Internet Links
The BBC is not responsible for the content of external sites.