Can Liberia's leading lady fight off election challenge?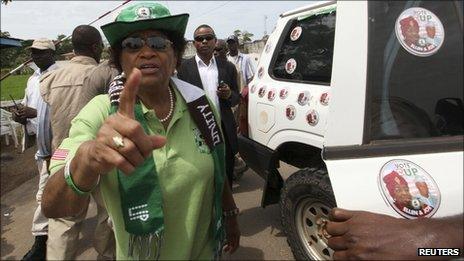 Africa's first democratically elected female president, Ellen Johnson Sirleaf - who was awarded the Nobel Peace Prize last week - faces a strong challenge in Tuesday's election from her long-standing rival Winston Tubman who has teamed up with ex-football star George Weah in a bid to oust her.
As Mrs Sirleaf made a final push for votes, she dedicated the prize to the Liberian people and urged them to vote for her so that peace prevails following the end of a brutal 14-year civil war in 2003.
Mr Tubman - a Harvard graduate, like Mrs Sirleaf - has been dismissive of the Nobel Committee's decision, arguing that the prize will not influence voters.
Mr Tubman, 70, believes Mrs Sirleaf, 72, might have support in the West, but Liberia's 1.8m voters - many of whom are still mired in poverty - will remove her from office.
In 2009, Liberia's post-war Truth and Reconciliation Commission implicated her in the civil war and recommended that she, along with about 50 other people, should be banned from public office.
Mrs Sirleaf rejected the TRC's findings and is standing for re-election against Mr Tubman and 14 other candidates, despite a promise not to run for a second term.
"When the plane hasn't landed yet, don't change the pilots," read giant billboards in the capital, Monrovia, promoting her candidature and that her of running mate, Vice-President Joseph Boakai.
Mrs Sirleaf's campaign team cites Monrovia's development as a symbol of her achievements.
'More than 75% successful'
Most of Tubman Boulevard, the city's main road, once bore the scars of conflict, with buildings dilapidated and riddled with bullets.
But today Tubman Boulevard - named after Liberia's longest-serving President William Tubman, an uncle of Winston Tubman - is tarred and shiny new buildings are springing up - including residential flats, banks, the offices of airline companies and six of Monrovia's leading supermarkets - four of which are newly established.
The development is a clear sign of the Liberian nation's resolve to put the conflict - which saw rebel forces invade Monrovia in 2003, forcing then-President Charles Taylor to step down - behind them, opening the way for investors - many of whom are Lebanese - to pump money into the city.
The governing Unity Party's (UP) secretary-general, Wilmot Paye, can't stop naming the government's achievements for which, in his opinion, "the Liberian people will make the right decision to vote us back into office."
"We are running on our record, not on promises," Mr Paye told the BBC.
"In Monrovia, some years back, just before the [2005] election, the streets were dilapidated. Our roads across the country were terrible. We are not 100% successful yet, but we are more than 75% successful."
Mr Paye says the government has also overseen a period of economic growth, making it possible to invest in education and health across the country.
"The productive sectors are picking up. Schools are totally rehabilitated and more schools are being built - 200 schools built over a period of over 200 weeks; it is a great achievement.
"More than 381 health facilities and services are being provided in this country, some of them free or affordable."
Mr Paye says Mrs Sirleaf's decision to run again even though she had pledged to serve for a single term is not a democratic breach.
"The president is a democrat and Liberia is a democratic society, and the fact that she is running again is because the generality of the Liberian people still believe in her leadership."
But Mrs Sirleaf's critics say she has not done enough, despite the large sums of money poured in by donors.
Liberia's main energy plant has not yet been rebuilt - and most people in Monrovia still do not have electricity or running water.
In fact, there is no running water even at the main offices of Liberia's water company.
Unemployment is also extremely high - some say that 80% of the workforce is unemployed and the youth are most affected.
Mr Tubman, 70, came fourth in the 2005 election, but the Congress for Democratic Change candidate is seen as Mrs Sirleaf's main challenger this time round.
Mr Weah, who lost a run-off to Mrs Sirleaf in 2005, has boosted his popularity, especially among Liberia's youth, analysts say.
"Mrs Sirleaf has had almost six years now to demonstrate what she can do inside Liberia for the Liberian people," Mr Tubman says.
"I often wonder whether it is the popularity of our ticket or the unpopularity of the incumbent that draws the crowd to us."
Mr Tubman believes Mrs Sirleaf has failed to put in place measures to keep Liberia united once the 8,000-strong United Nations peacekeeping force leaves.
"We have peace and stability here now, in my view, largely because the UN presence is still here. What effort has been made to really unite our people and heal the wound?" he asked.
"And it is difficult for the president to do that because she is so much identified with the war [although] she has said she was not involved."
Mrs Sirleaf has sidestepped last year's recommendations of the TRC, which said she should be banned from public office for 30 years for initially giving financial support to Mr Taylor when he was a rebel leader fighting for power.
She later became a staunch critic of Mr Taylor, who is now facing war crimes charges at The Hague for his role in the civil war in neighbouring Sierra Leone.
"The Supreme Court came out and said that ban was unconstitutional, but there are still a lot of people that feel that she, and other people who were involved in the war, need to face some kind of consequence," says Titi Ajayi, West Africa fellow for the International Crisis Group (ICG).
The ICG says Liberia's peace is fragile, with the conflict in neighbouring Ivory Coast increasing the circulation of illegal weapons in the region.
On Monday, Liberia closed its borders with Ivory Coast.
The president of the commission of the Economic Community of West African States (Ecowas), veteran Ghanaian diplomat James Gbeho, called on parties to ensure the elections were peaceful and free and fair.
"We must all understand that the eyes of the whole world are on Liberia and the Economic Community of West African States, and we should not let ourselves down. That is the test of political maturity," Mr Gbeho said.
The UN has stepped up patrols along the Ivory Coast's border, and has sent an extra 250 policemen and soldiers to Liberia.
Wilson Willie, a 37-year-old night watchman who sells mobile phone cards by day, said he hoped that the result would not be disputed as this could trigger violence.
"The development of this nation is what all politicians should give attention to, despite their differences," he says.
Related Internet Links
The BBC is not responsible for the content of external sites.