Cameroon election: President Paul Biya defends seat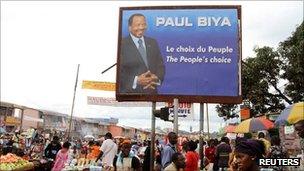 Voters in Cameroon are casting their ballots in presidential elections that few expect will unseat long-term incumbent Paul Biya.
Mr Biya, 78, who has been in power for nearly 30 years, faces a field of 22 other contenders.
The opposition has been criticised for fielding too many candidates and failing to offer a popular agenda.
But the opposition complains its campaigns have been restricted by a lack of funding and media airtime.
Opponents also accused President Biya of keeping a tight grip on the election process - nominating members of the national election body, setting key dates on the election calendar and appointing the judges who will rule on the final results.
Early polling in the capital Yaounde was slow with only a handful of early voters at some polling stations, a Reuters reporter there said.
Some polling stations opened late because election officials and materials did not arrive until after the vote had theoretically started, witnesses said.
"I have come out to do my civic duty and I hope that all Cameroonians do the same so that peace continues to reign in this country," businesswoman Marguerite Mbarga told Reuters when casting her vote.
Sunday's vote is expected to be peaceful, but the authorities have stepped up security in the main towns and cities in case of trouble.
Violence erupted in 2008 when Mr Biya controversially amended the constitution scrapping the limit to presidential terms. Dozens were killed.
Mr Biya's main rival is John Fru Ndi, who runs the lead opposition party and has stood for the presidency in the past. In the last election in 2004, Biya scored more than 70% and Mr Fru Ndi took just 17%.
All candidates in the election have promised to take Cameroon to middle income status sometime in the 2030s, the BBC's Kevin Mwachiro from the country's economic capital Doula reports.
President Biya himself has promised to turn the country into a huge construction site - spending money on improving the roads, electricity supply and rail service, our correspondent adds.
Cameroon is a mineral rich country, but there is not much to show for its wealth, he adds.
Related Internet Links
The BBC is not responsible for the content of external sites.