Cameroon election: SDF accuse Paul Biya's CPDM of fraud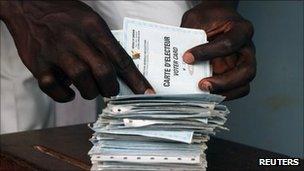 The main opposition party in Cameroon has accused the ruling party of fraud in Sunday's election, as President Paul Biya seeks to remain in power.
Mr Biya, 78, who has been in power for nearly 30 years, faced 22 challengers.
An official of John Fru Ndi's Social Democratic Front (SDF) said people had been caught voting more than once, while some complained that they were unable to cast their ballots.
Mr Biya and his officials have denied the claims of fraud.
"The world is not a perfect place, but let's be positive, for there has been no intention of fraud. We're for transparency and free elections," he said as he cast his ballot in the capital, Yaounde.
The election was generally peaceful although the authorities say two gendarmes were killed after unknown gunmen opened fire at a polling station in the oil-rich Bakassi peninsular, which Nigeria recently handed to Cameroon after an international court ruling.
Turnout is said to have been low, with many people believing Mr Biya's victory is a foregone conclusion, especially with the opposition failing to agree on a single challenger.
Votes are now being collated and counted, with final results due within two weeks.
"We actually caught some people voting three times," said SDF secretary general Elizabeth Tamanjong. "How could such a thing happen?" she asked.
Mr Fru Ndi said there had been "disorder" and "intimidation" at some polling stations.
"We won't tolerate this rigging this time in Cameroon. I urge Cameroonians to vote and secure their votes, but this doesn't mean that I'm preaching violence," he told AP after casting his ballot in the main north-western town of Bamenda.
He also said that supposedly indelible ink designed to stop people voting more than once was easily washed off.
Several people said that when they went to vote, they were told that someone had already cast ballots on their behalf.
The BBC's Randy Joe Sa'ah in Yaounde says it was common to see piles of unclaimed voter cards at polling stations.
The opposition also complained that its campaigns were restricted by a lack of funding and media airtime.
Dozens of people were killed in 2008 during protests after Mr Biya controversially amended the constitution, scrapping the limit to presidential terms.
The candidate of the ruling Cameroon People's Democratic Movement (CPDM) has been president since 1982
In the last election in 2004, Mr Biya scored more than 70% and Mr Fru Ndi took just 17%.
President Biya has promised to turn the country into a huge construction site - spending money on improving the roads, electricity supply and rail service.
Cameroon is rich in oil, minerals and timber but most of its people live in poverty.
Related Internet Links
The BBC is not responsible for the content of external sites.