Cape Verde ex-leader Pedro Pires wins Mo Ibrahim prize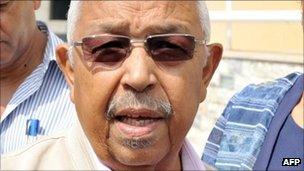 Former Cape Verde President Pedro Verona Pires has been awarded this year's $5m (£3.2m) Mo Ibrahim prize for good governance in Africa.
The prize committee said Mr Pires, who stepped down in August, had helped make the archipelago off the West African coast a "model of democracy, stability and increased prosperity".
The prize is supposed to be awarded each year to a democratically elected leader who has voluntarily left office.
There has been no winner for two years.
The committee said there had been no suitable candidate.
The $5m award, given over 10 years followed by $200,000 a year for life, is the world's most valuable individual prize.
The previous winners are Botswana's President Festus Mogae and Mozambique's Joaquim Chissano.
Sudan-born telecoms entrepreneur Mo Ibrahim says the prize is needed because many leaders of sub-Saharan African countries come from poor backgrounds and are tempted to hang on to power for fear that poverty awaits them when they leave office.
Mr Pires, 77, told the BBC he was at the gym when he heard that he had won the prize.
"I want to invest the money to publish a book about the story and the struggle for the independence of Cape Verde," he said.
"I have no thought of using the money to invest in business or anything like that."
Mr Pires played a key role in the fight against Portuguese colonial rule and became prime minister at independence in 1975 - a position he held until 1991.
He led moves to introduce multi-party elections, which his PAICV party lost.
Ten years later, he bounced back to become president and stepped down after two terms, rejecting calls to change the constitution to remain in office, like several African leaders have done.
Despite winning the prize, Mr Pires said he had no advice for other leaders on the continent.
"I don't like to give lessons. I think each leader has his own challenges," he said.
"We have to believe in African people and allow them to decide their own fate."
Committee head Salim Ahmed Salim praised his "humility" and "personal integrity" in refusing calls to change the constitution.
Cape Verde - an Atlantic archipelago of 10 islands - has experienced significant economic growth in recent years, partly because of a boom in tourism.
It is now classed by the United Nations as a middle-income country.
But unemployment and poverty are still high, forcing many people to emigrate.
Some 700,000 Cape Verdeans live abroad, more than the 500,000 at home, official statistics show.
Related Internet Links
The BBC is not responsible for the content of external sites.