African Dream: Nigeria's Lisa Folawiyo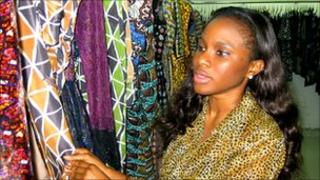 Nigeria's fashion designer Lisa Folawiyo's shiny clothes have captivated people from Lagos to Cape Town, London, Paris, New York and Hollywood.
She is the founder and creative director of Jewel by Lisa, a brand that specialises in Ankara textiles, the vibrant wax-resist dyed fabrics characteristic of West Africa and widely used across the continent.
These clothes, originally based on traditional Indonesian batik and formerly known as Dutch wax, have been popular in Nigeria for generations.
"Our mothers, grandmothers and probably great-grandmothers have worn this fabric," Ms Folawiyo told the BBC series African Dream.
But, as though they were not already bright enough, she decided to embellish them with beads, sequins and crystals, all sewn by hand, and the chic combination became an instant success.
"I can confidently say that Jewel by Lisa was the originator of the embellished Ankara which we see today everywhere," the designer said.
"I have a huge clientele and I have been able to hire a showroom in New York, for instance, and from that showroom we have been able to be stocked in about two stores in New York. Also, I am stocked in a store in South Africa," she added.
Teamwork
Ms Folawiyo attributes her company's success to the way it imbues traditional clothing with a very modern look.
She also thinks that a great deal of Jewel by Lisa's achievements have to do with the people she works with.
"I have a great team. That is how I have been able to make a good business out of this," she said.
"When I started Jewel by Lisa, I worked from home, by myself, and hired able hands of one or two tailors, and it was very much a passion, just something I loved doing," Ms Folawiyo explained.
She says that the excitement is still there but that her team helps her to keep focused and to have a good structure in place.
"This enables me to still run away with my creativity and run away with my passion but then they definitively make sure that the numbers are adding up," she told the BBC's Tomi Oladipo.
Not only glamour
Ms Folawiyo believes that there is still room in the industry for new entrepreneurs.
"Because of my story I do know that you don't have to go to a design school to be a good designer but I do think that you must have a good eye, you want to understand garment-making as opposed to wanting to be called a designer," she said.
In her opinion, many young people have the wrong impression of a designer's life.
"They see the glamorous side. They see us when we go for a fashion show. They see when you go on the runway and take your bow, and they see you've been featured in magazines, and they think: 'Oh, I want that'.
"But it's a lot of hard work; it's a lot of passion."
African Dream is broadcast on the BBC Network Africa programme every Monday morning.
Every week, one successful business man or woman will explain how they started off and what others could learn from them.