Liberia's Ellen Johnson Sirleaf likely to face run-off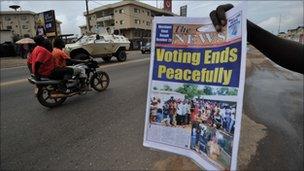 Partial results in Liberia's presidential election show Nobel Peace Prize winner Ellen Johnson Sirleaf, the incumbent, is likely to face a run-off vote with her nearest rival.
She won 44.5% of the votes while rival, former diplomat Winston Tubman garnered 26.5% - neither candidate reaching the 50% threshold for an outright win.
Ex-warlord Prince Johnson with 13.5%, making him a potential kingmaker.
This is Liberia's second presidential poll since a civil war ended in 2003.
The first preliminary results were based on 195,178 valid votes so far counted, out of 1.8 million registered voters.
An unofficial tally by a media monitoring group of nearly 400,000 votes posted at polling stations suggests a similar outcome.
The electoral commission has until 26 October to announce the final results.
If no candidate scores an overall majority, a run-off between the two frontrunners will be held early next month.
This is the first election organised by Liberia's National Elections Commission - the previous one was run by the UN.
But 8,000 UN peacekeepers were deployed across Liberia, helping the election to unfold in a quiet atmosphere.
President Sirleaf, who was first elected in 2005, was awarded the Nobel Peace Prize last week - a decision denounced by Mr Tubman and other candidates.
Mr Tubman is running under the banner of the Congress for Democratic Change (CDC) party, with ex-football star George Weah as his running mate.
Mr Weah was beaten by Mrs Sirleaf in the 2005 poll.
Prince Johnson's forces infamously filmed the torture and murder of dictator Samuel Doe in 1990.
"I will be happy to be the kingmaker," he told the Associated Press on Thursday.
"And where we will put our support will depend on what our supporters say... We will not put our votes into someone's hands blindly."
After the war, he became a born-again Christian pastor and was elected to the senate in the 2005 poll.
Mrs Sirleaf had said she would only seek a single term but explained her U-turn by saying she wanted to finish the work she had started.
While Mrs Sirleaf is well regarded by the international community, some analysts say she is less popular at home.
Her challengers accuse her of not doing enough to improve the lives of ordinary people, who remain among the poorest in the world.
Mrs Sirleaf has also been criticised for backing former President Charles Taylor - currently on trial at The Hague for alleged war crimes - when he began his rebellion in 1989.
The pair later fell out and she apologised for her role, but Liberia's Truth and Reconciliation Commission said she should be barred from holding public office.
Liberia is Africa's oldest republic - it was founded in 1847 by freed US slaves, hence its name.
Related Internet Links
The BBC is not responsible for the content of external sites.