UNHCR reduces Kenya aid operation after MSF abductions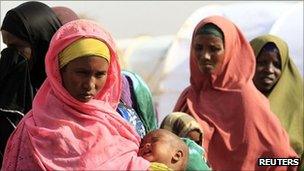 The aid operation near the Kenya-Somalia border has been scaled back and some international staff evacuated after the abduction of two aid workers.
All non-life-saving activities have been suspended, but the distribution of water, food and medical services is continuing, a UN spokesman said.
The two abducted are Spanish women who worked for MSF. It has withdrawn most of its foreign staff from Dadaab camp.
Kenyan police say they believe the women have been take to Somalia.
Nearly half a million people have fled drought and conflict in Somalia to seek assistance in Dadaab.
Mr Nyabera, from the UN refugee agency (UNHCR), said the suspension would last for a few days while security was increased in the area.
The BBC's Bashkas Jugsodaay in Dadaab says schools are closed but Medecins Sans Frontieres (MSF) clinics are still operating.
There is a lot of fear among aid workers and refugees in the camp, which has become the equivalent of Kenya's third biggest city after the region's worst drought in 60 years, our reporter says.
Somalia has been worst affected, with some areas declared famine zones, and many thousands fleeing their homes to seek assistance.
Much of the country is controlled by the Islamist al-Shabab group which has restricted access to international aid groups, saying they have a political agenda.
Two tourists - from the UK and France - have recently been kidnapped from Kenyan coastal resorts and reportedly taken across the border to Somalia.
It is not clear whether they were seized by al-Shabab, pirate gangs or other armed groups.
Our reporter says armed men are often seen in Dadaab at night.
He says the hundreds of four-wheel drive vehicles carrying aid workers which normally arrive in the camp each morning were absent on Friday.
Mr Nyabera said that aid workers would not be travelling the 50 miles (80km) to Liboi on the border to collect newly arrived asylum-seekers.
"The rains are coming, it is crucial that we access the refugees," he said.
Helicopters and vehicles are scouring the arid region near Somalia to find the abducted pair even though regional police chief Leo Nyongesa told the AFP news agency there were "all indications" that the abducted pair had been taken across the border.
After two decades of conflict in Somalia, the UN-backed government only controls a few areas, including the capital, Mogadishu, and so it would be very difficult to rescue them by force if they are no longer in Kenya.
However, a senior al-Shabab official told the Reuters news agency that the group had not kidnapped the Spanish pair and nor were they in Islamist-controlled areas.
The aid workers' Kenyan driver was wounded in the attack and is now in hospital, MSF says.
Their abandoned car has been recovered.
Last month, 56-year-old Briton Judith Tebbutt was kidnapped by gunmen from a remote Kenyan resort at Kiwayu on the Indian Ocean coast. Her husband David was killed.
On 1 October, a 66-year-old French woman was seized by an armed gang on Kenya's northern resort island of Manda and believed to have been taken to Somalia.
And a Kenyan driver working for the Care charity was abducted from Dadaab on 21 September.
The UK Foreign Office has advised against all but essential travel to the Kenyan coast near the Somali border.
Related Internet Links
The BBC is not responsible for the content of external sites.