Joking again - Burma's favourite comedian free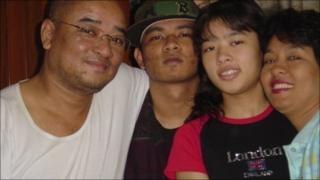 It's not my "patch" any more, but I couldn't resist writing about the news that Zargana - Burma's best-loved comedian - has been released from prison. I wrote about him when I was based in Asia, and below is the report I've just put together for the BBC's From Our Own Correspondent programme.
The prison guards woke Zargana early on Wednesday morning. No explanations. No chance to say goodbye to the other men sharing his cramped, windowless cell.
Silently, the guards escorted him to an office. Only then did they break the news. "You're a free man. You can leave immediately. Oh - but we're keeping your books."
Zargana told me all this on the phone the next day - in his deep, chuckling voice.
He has a knack - handy for a professional joker - of seeing the funny side to almost everything.
The phone connection kept breaking - so many people were trying to get through to congratulate him.
Zargana used to be a dentist. But by the time I first met him in 2006, he had transformed himself into Burma's most famous comedian - performing on stage and screen. He had a soft spot for Benny Hill.
The job, inevitably, involved regular spells in prison. Military dictatorships are not famous for their sense of humour.
Whenever I'd sneak into Burma, undercover, we'd meet up. Most people were too scared to speak out. But Zargana was always bursting to tell another political joke.
Then in 2008, he was sentenced to 59 years in jail for criticising the government's sluggish response to a devastating cyclone.
For a bald, overweight 47-year-old with a heart condition, things suddenly didn't look too hopeful.
It seemed the generals might have the last laugh after all.
Zargana was sent to Myitkyina prison, in the far north of the country.
His family was already safely abroad, in the United States - his daughter at college, his son writing protest rap songs - proud of his father, but sanguine about his chances.
'Books are friends'
Despite his isolation, Zargana managed to stay in touch. He wrote to me in secret. A guard agreed to trade a packet of instant coffee for a scrap of paper and a pen. Prisonomics, Zargana called it.
The letter was smuggled out. In it, he described how he and other political prisoners were kept apart - unable to leave their cells. "Sleeping, eating, urinating - all in one," he wrote. "So books are my best friends.
"But I'm fine," he went on. "Sometimes."
And to prove it, he ended the letter with a string of jokes for my children.
There was one about bananas. And another about the two types of lawyers - those who know the law. And those who know the judge.
By then, I'd moved to South Africa. But we wrote back to Zargana, and sent him jokes, and books via his sister-in-law who was allowed the occasional visit.
"I liked the PG Wodehouse best," Zargana said. "Joy in the morning - Jeeves, Wooster, and the fearsome Aunt Agatha.
"It's difficult to understand," he said. "But I've read it three times at least. And I used it as a pillow too."
Outside the prison, Burma was changing. The generals - insular and paranoid - were starting to look for a way to improve their international image and move towards what they drily described as "a managed democracy".
So last year they held carefully controlled elections, and soon afterwards, Burma's most famous prisoner, Aung San Suu Kyi was released from house arrest.
In the last few months the reform process has appeared to accelerate sharply.
Suffocating media restrictions have been relaxed.
New labour laws have been introduced.
A human rights commission is being established.
A wildly unpopular Chinese project to dam a key river has been suspended.
And there's the amnesty for more than 6,000 prisoners.
Down the phone, I could hear sounds of cheering and laughter from Zargana's house in Rangoon.
Still paying
"I'm exhausted," he said, happily. "So much talking."
And yet, Burma is thought to have about 2,000 political prisoners - and so far only 200 of them have been released.
Among those still being held are activists like Nilar Thein. In 2008 she spent months on the run - eventually leaving her baby daughter with a relative, as she started to run out of options in the spy-riddled backstreets of Rangoon. "I'm hiding in the clouds," she told me on the phone, just weeks before they finally caught her.
I asked Zargana if he thought the authorities were just messing about - toying with reforms - as many suspect. He seemed unsure.
"Nothing has changed here," he said. "But no, I don't think this is a trick. It's a preliminary test.
"I can say whatever words I wish now. They didn't warn me not to talk."
And so he is talking - non-stop. His words devoured by hungry Burmese journalists, as he probes the tolerance of Burma's new president - demanding that all political prisoners be freed immediately - including the 14 friends he left behind at Myitkyina.
"I'm feeling fine now," he told me. "My heart is almost good."
His wife had just called from Los Angeles. She wants to come home. Maybe in six months, he said.
In the meantime, he's working on some new sharp-edged jokes. "Politics is my priority," he said. "I've left Jeeves and Wooster in jail."