'Al-Qaeda' distributes Somalia aid near Mogadishu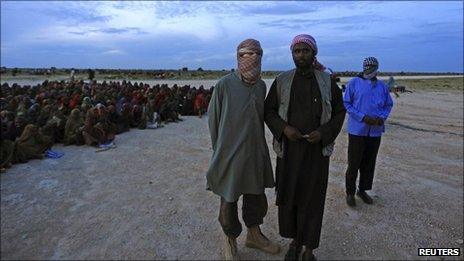 A man claiming to be from al-Qaeda has distributed aid in Somalia, highlighting the group's links with al-Shabab militants.
The man identified as US citizen Abu Abdulla Almuhajir and speaking with an American accent handed out food, hijabs and Korans to people at a refugee camp near the capital, Mogadishu.
It is thought to be al-Qaeda's first aid distribution in famine-hit Somalia.
Al-Shabab has restricted aid agencies' access to areas it controls.
It says some international agencies have a political agenda and have exaggerated the scale of the problems.
Some al-Shabab-controlled regions have been declared famine zones, because so many people are suffering severe malnutrition.
Mr Almuhajir was accompanied by al-Shabab spokesman Sheikh Ali Mohamud Rage, who said they were distributing food such as flour, rice, cooking oil, dates and milk to 4,000 people in the Ala-yasir camp, some 50km (30 miles) south-west of Mogadishu.
The UN says that some 750,000 people face starvation in Somalia.
They also said they were distributing $17,000 (£11,000) in cash and a fully-equipped ambulance.
BBC Somali service head Yusuf Garaad Omar says al-Shabab has not previously hidden its association with al-Qaeda but this public aid distribution makes the links far more explicit.
The UN-backed government, which controls most of Mogadishu but little other territory, says hundreds of foreign fighters are helping al-Shabab in the country.
Mr Almuhajir said he had gone to Somalia with a message from al-Qaeda leader Ayman al-Zawahiri.
"We would like to take this opportunity to encourage Muslims around the world to come to the assistance of our Muslim brothers and sisters in Somalia," he said.
On Thursday, two Spanish aid workers with medical charity Medecins Sans Frontieres were kidnapped by armed men from the Dadaab refugee camp in Kenya, where almost half a million Somalis have fled, seeking assistance.
It is feared that they may have been taken into Somalia.
Al-Shabab has reportedly denied any links to the abduction, which has led aid agencies to scale back their operation in Dadaab.
Related Internet Links
The BBC is not responsible for the content of external sites.