Kenya sends troops into Somalia to hit al-Shabab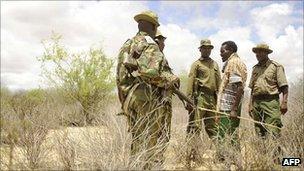 Kenya's foreign minister has told the BBC his country has sent troops into neighbouring Somalia to target the Islamist militant group al-Shabab.
Moses Masika Wetangula said Kenya was defending itself, after a spate of suspected al-Shabab kidnappings.
Witnesses described dozens of military vehicles pouring over the border, backed by planes and helicopters.
Reports say al-Shabab, which denies carrying out the abductions, has begun preparing militias to fight back.
Al-Shabab spokesman Ali Mohamud Rage told the BBC Somali service: "We will defend ourselves. Kenya doesn't know war. We know war. The tall buildings in Nairobi will be destroyed.
"We have fought against governments older and stronger than Kenya and we have defeated them."
Several Westerners have been seized in Kenya by suspected Somali militants and reportedly taken into Somalia.
Two Spanish aid workers from Medicins Sans Frontieres (MSF) were abducted from Kenya's sprawling Dadaab refugee camp on Thursday.
A British woman and a French woman have been kidnapped from remote beach resorts over the past month, dealing a major blow to Kenya's tourism industry.
There have been conflicting reports about possible perpetrators of the kidnappings - with some claiming al-Shabab had carried them out, and others saying pirate gangs could be the attackers.
After two decades of conflict, weapons are widely available in Somalia and the abductions could also be the work of another armed Somali group.
Mr Wetangula said the troops went across the border on the request of Somalia's transitional government, which controls very little territory but is backed by the international community.
"What we are doing is in pursuit of a request by the government of Somalia and also our own interest as a country to fight a group that is terror-based," he said.
"If you are the Kenyan government or a Kenyan, what would you have done? Will you clap for [the kidnappers] and say they have done a good job? No. You must defend your country."
But officials from Somalia's government denied any knowledge of the incursion, claiming that Kenya merely gave them logistical support.
The BBC's East Africa correspondent Will Ross says the transitional government already relies on foreign troops from the African Union (AU), so it is embarrassing to admit that it needs yet another country to intervene.
Al-Shabab controls much of southern Somalia, and for years has been locked in combat with government forces and their allies from the AU.
Witnesses said tanks and up to 40 Kenyan vehicles carrying soldiers had passed through the Somali town of Dhobley, near the border, on Sunday.
Previous foreign interventions in Somalia have ended in embarrassing withdrawals - the US in 1992 and Ethiopia in 2006.
Correspondents say many Kenyans will fear their country could be bogged down in a long, unwinnable conflict.