Somali militants al-Shabab threaten Kenya retaliation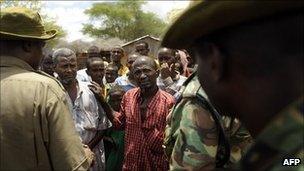 Somali militant group al-Shabab has warned Kenya to withdraw its troops from Somalia, or face bloody battles.
Al-Shabab spokesman Ali Mohamud Rage told the BBC Somali service that his fighters would attack Nairobi.
Kenya launched an air and ground assault on the weekend, in response to several recent cross-border abductions it blames on al-Shabab.
The hard-line group, which controls much of southern Somalia, denies carrying out the kidnappings.
Mr Rage said: "We will defend ourselves. Kenya doesn't know war. We know war. The tall buildings in Nairobi will be destroyed.
"We have fought against governments older and stronger than Kenya and we have defeated them."
Witnesses said hundreds of al-Shabab fighters were making their way towards areas where Kenyan forces had gathered.
Kenyan troops crossed the border at the weekend, supported by helicopters and jet fighters.
There have not yet been any reports of major confrontations, although the Kenyan military said the operation was going well.
"Our team inside Somalia is doing well. So far, we have uprooted al-Shabab from [the district of] Dhobley after air and ground raids," a Kenyan officer told Reuters news agency.
"We are working with other friendly armed groups... to fight the common enemy, al-Shabab."
The Islamist group is locked in a battle with the transitional government for control of parts of the country currently outside of is power, particularly in the capital Mogadishu.
The government controls very little territory, but does have several militant groups around the country it regards as allies, and it is backed by the international community.
Kenyan officials said they wanted to ensure al-Shabab militants were not able to operate anywhere near the two countries' shared border.
Nairobi has been infuriated by a string of abductions of foreign nationals near the border.
Most recently, two Spanish aid workers were seized from the Dadaab refugee camp.
A Frenchwoman living in Lamu and a British woman tourist have also been kidnapped in recent weeks.
Although Kenya has blamed al-Shabab for the abductions, the group has denied playing any part.
After two decades of civil conflict, Somalia is awash with guns, and analysts say any number of groups could have carried out the kidnappings - including pirate gangs.
Kenyan Foreign Minister Moses Masika Wetangula told the BBC that the troops went across the border at the request of Somalia's transitional government.
"What we are doing is in pursuit of a request by the government of Somalia and also our own interest as a country to fight a group that is terror-based," he said.
But several officials from the government denied any knowledge of the incursion, and said Kenya supplied only logistical support.
The BBC's East Africa correspondent Will Ross says the transitional government already relies on foreign troops from the African Union, so it is embarrassing to admit that it needs yet another country to intervene.
Previous foreign interventions in Somalia have ended in humiliating withdrawals - the US in 1992 and Ethiopia in 2009.
Correspondents say many Kenyans will fear their country could be bogged down in a long, unwinnable conflict.
Al-Shabab, which has been linked to al-Qaeda, has threatened Kenya on several occasions in the past.
But it has rarely acted outside Somalia - the only previous major attack it has said it carried out was a 2010 suicide bombing in Uganda's capital Kampala in which dozens of people died.