Liberia vote: Prince Johnson backs President Sirleaf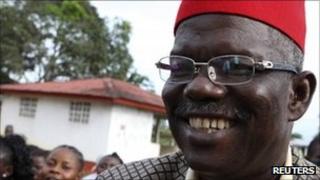 Former rebel leader Prince Johnson, who came third in Liberia's election, says he will back Nobel Peace Prize-winner President Ellen Johnson-Sirleaf in the second round.
"She is the lesser of two evils," he told the BBC. Forces loyal to Mr Johnson infamously filmed the torture and murder of dictator Samuel Doe.
Mrs Sirleaf's opponent will be former UN diplomat Winston Tubman
This is Liberia's second election since the end of a 14-year civil war in 2003.
With almost all the ballots counted, Mrs Sirleaf has 44% against 32% for Mr Tubman, with Mr Johnson on 12%.
A candidate needs most than 50% for outright victory.
Over the weekend, opposition parties - including those of Mr Tubman and Mr Johnson - said they were pulling out of the election, accusing the National Elections Commission (NEC) of rigging it in favour of the incumbent.
But Mr Tubman has since confirmed that he will take part in the run-off, provisionally set for 8 November.
Mrs Sirleaf, who was earlier this month awarded the Nobel Peace Prize, won the 2005 election to become Africa's first female elected head of state.
She defeated former footballer George Weah, who is Mr Tubman's running mate this time.
Mrs Sirleaf has not commented on Mr Johnson's endorsement but before the announcement told the BBC that she was "ready to work with all Liberians".
She said that as a Nobel laureate, "I must continue to work for peace and reconciliation".
Mr Johnson accused the Tubman-Weah camp of not being interested in reconciliation and only representing one part of the country.
He also noted that they had previously called for him to be punished because of his role in the war, as recommended by Liberia's Truth and Reconciliation Commission.
The TRC also said that Mrs Sirleaf should be barred from public office because of her backing for Charles Taylor - the former rebel leader and president currently on trial in The Hague.
Mrs Sirleaf has ignored the recommendation and points out that she has apologised and did not back Mr Taylor for long before falling out with him.
Mr Johnson said the price for his support would be a share of power and jobs for his former fighters.
After the war, he became a born-again Christian pastor and was elected to the Senate in the 2005 poll.
The BBC's Jonathan Paye-Layleh in the capital, Monrovia, says Mr Johnson enjoys strong support in his home area of Nimba County, the region with the second highest number of voters after the capital, Monrovia.
The election has been largely peaceful, however an office of Mrs Sirleaf's Unity Party was on Saturday morning burnt to the ground in an apparent arson attack in Monrovia. It is not clear who was responsible.
The NEC, which is running its first poll, has rejected the accusations of fraud but Mr Tubman said the opposition threat to boycott the second round had prevented the NEC from declaring that Mrs Sirleaf had won in the first round.
On Saturday, opposition parties said they could offer photographs and witnesses to back their claims that the NEC had manipulated vote-counting in favour of President Sirleaf.
Her party said it was not surprised by the allegations, accusing the opposition of being bad losers.