Zambia's Sata in Angola apology for 'rebel treachery'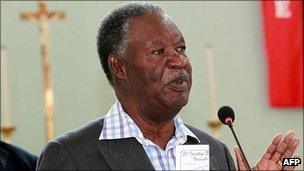 Zambia has apologised to neighbouring Angola for committing "treachery" by backing ex-rebels who fought the Luanda government during the civil war.
Newly elected President Michael Sata said he had sent an envoy to Luanda to apologise to the president.
In the 1990s, Angola had accused Zambia of backing the ex-rebel group Unita - a charge Lusaka denied at the time.
The move by Mr Sata is the latest policy shift by Zambia since he won elections last month.
Mr Sata said he had despatched independent Zambia's first President, Kenneth Kaunda, to apologise to Angolan President Jose Eduardo Dos Santos.
"I have sent him as my envoy to go and personally apologise to the president," Mr Sata said, as he received the credentials of Angola's new ambassador, Balbina Malheiros Dias Da Silva.
He said Zambia - during the rule of Mr Kaunda's successor, the late Frederick Chiluba - had committed treachery by backing ex-Unita rebel leader Jonas Savimbi.
Angolan forces killed Mr Savimbi in 2002, ending a brutal civil war that had raged since independence in 1975.
Mr Chiluba's government repeatedly denied that it backed Mr Savimbi.
Mr Sata took office in September after beating his predecessor, Rupiah Banda, in elections.
He vowed to curb corruption and shake-up the political system.
He has already cancelled the sale of one of the country's banks, Finance Bank, to First Rand of South Africa.
Mr Sata is also demanding an apology from neighbouring Malawi's President Bingu wa Mutharika after he was detained and deported from the country in 2007.
His deportation followed allegations that he was plotting a coup in Malawi - a charge he strongly denied.
Related Internet Links
The BBC is not responsible for the content of external sites.