Kenya to target al-Shabab sympathisers in Nairobi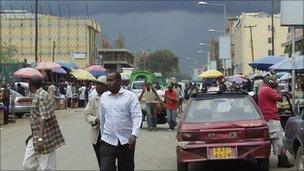 Kenya has announced that it will launch a major security operation in its capital to flush out sympathisers of the Somali Islamist group, al-Shabab.
It would begin after Kenyan troops had completed their mission against militants in Somalia, an official said.
The government blames the militants for a spate of kidnappings of foreigners.
Al-Shabab has warned of retaliatory attacks, but Kenya's president has defended sending troops into Somalia on Sunday to attack al-Shabab strongholds.
"The security of our country is paramount. We will defend our territorial integrity through all measures necessary to ensure peace and stability," President Mwai Kibaki said on Thursday - his first comments since the Kenyan incursion into Somalia began.
"Our security forces have begun operations within and outside of our borders against militants who have sought to destabilise our country."
Al-Shabab, which is linked to al-Qaeda and controls much of southern and central Somalia, has denied carrying out any abductions.
It has threatened Kenya on several occasions in the past, but has rarely acted outside Somalia - the only previous major attack it has said it carried out was a 2010 suicide bombing in Uganda's capital Kampala in which dozens of people died.
Orwa Ojode, Kenya's assistant minister of internal security, told MPs on Wednesday that he was going to organise the "mother of all operations" in Nairobi to remove al-Shabab.
"This is like a big animal with the tail in Somalia. We are still fighting the tail and the head is sitting here," he said.
The authorities said they would target the Nairobi suburb of Eastleigh, largely inhabited by ethnic Somalis.
Many Eastleigh residents are Kenyan nationals, while others have arrived from Somalia during the past two decades of conflict there.
Those who were illegally in Kenya and other criminal networks would be dealt with, Mr Ojode said.
The Kenyan government was also concerned that there were a lot of small arms in the wrong hands, he said.
But some MPs expressed their concern that Kenyan-Somalis would be subject to harassment during the operation.
On Tuesday, the French authorities said it had learnt that a French woman kidnapped from Kenya by Somali gunmen earlier this month had died.
In September, Briton David Tebbutt was killed and his wife Judith abducted from a luxury resort of Kiwayu on the Kenyan coast.
Last week, two female Spanish aid workers with the charity Medecins Sans Frontieres (MSF) were seized from the Dadaab refugee camp near the Kenya-Somalia border.
Correspondents say al-Shabab has not previously seized foreigners far from its own territory, while the numerous pirate gangs working out of Somalia normally kidnap ships and their crew for ransom rather than operating on land.
Since Kenya's incursion into Somalia - code-named "Linda Nchi", Swahili for "defend the nation" - security has been increased in areas such as bus terminals, airports, shopping centres and hotels.
Mr Ojode said travellers on air and road transport would also be screened, especially on routes to and from areas near the Kenya-Somali border.
Kenya forces are now reported to be within a short distance of the al-Shabab-held town of Afmadow, 120km (75 miles) from the border.
The town is about 90km north of the port city of Kismayo, al-Shabab's main economic power base.
Meanwhile, heavy fighting has broken out in the Somali, capital, Mogadishu, where the weak interim government is supported by a 9,000-strong African Union force.
An AU commander told the BBC it had launched an attack early on Thursday morning to flush out the last remaining al-Shabab fighters from the south-western Deynile suburb.
But al-Shabab spokesman Abdulaziz Abumusab told the BBC it had killed 40 AU and Somali government soldiers in a retaliatory attack - and he said the bodies would be displayed to the media.
The BBC's Mohamed Moalimu in Mogadishu says there is no confirmation of the casualties and heavy gunfire can still be heard.
Related Internet Links
The BBC is not responsible for the content of external sites.