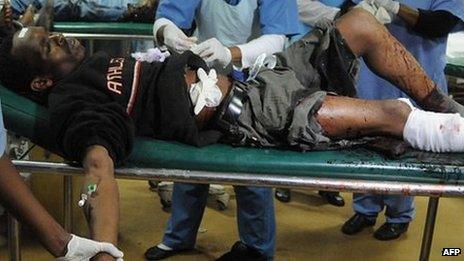 There was blood on the dark pavement, a few abandoned shoes, three Kenyan investigators in rubber gloves sifting through the dirt and just outside the police cordon, an elderly man with raised hands praying loudly for peace.
I arrived at the scene of the second grenade attack in Kenya's capital, Nairobi, about an hour after the blast on Monday.
Inside the cordon, Kenyan security officials were busy trying to play down both incidents.
A district police commissioner told me it was "too early" to draw any conclusions.
"Simply thuggery," said another senior security official in army camouflage.
But privately, four officials admitted that the two attacks - at a bar and a bus stop - were almost certainly the work of al-Shabab - a discordant umbrella group at the best of times - or of individuals inspired by the Islamist militants, and now looking to punish Kenya for its military incursion into areas they control in southern Somalia.
So - is this the sign of things to come?
For now, Kenyan newspapers and most civilians I have spoken to seem to be rallying - with surprisingly little scepticism - behind their government.
Over the coming days, I will be looking in more depth into Kenya's offensive and its implications for the region.
In the meantime - a few questions:
Has Kenya's untested army been lured into a trap by an experienced guerrilla force?
Will al-Shabab risk its deep-rooted financial links in Kenya by launching a more spectacular attack?
Were the kidnappings of foreigners in Kenya that triggered the offensive the work of al-Shabab or a more militant offshoot or unrelated criminal gangs?
Will Kenya's offensive push the divisions within the western-backed transitional government in Mogadishu to breaking point?
What makes Kenya think it can succeed where Ethiopia and the US failed?
What impact will the offensive have on the famine?
Should the Somali community inside Kenya be worried about possible reprisals?
To what extent are the French, the US and other foreign governments involved in this offensive?
Would Kenya have been better off trying to secure its own border and leave the fighting to its Somali militia proxies?
Related Internet Links
The BBC is not responsible for the content of external sites.