Will Mugabe's party be torn apart by Wikileaks?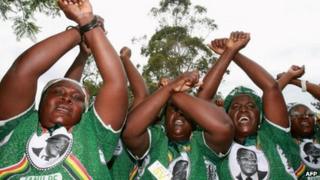 The next few weeks could prove to be the most trying in the career of Zimbabwe's 87-year-old President Robert Mugabe.
Until now it would have been unthinkable for him to doubt the support of his Zanu-PF party at the gathering of the party's annual jamboree.
But party insiders say the country's independence leader, who has been in power for 31 years, was stunned by recent disclosures on the whistle-blowing site Wikileaks that his close allies spoke to US diplomats about his political exit and death.
With elections beckoning, the reality is that a string of his top officials in his Zanu-PF party believe he is now a liability and want him to go before presidential polls slated for next year.
Insiders say he would like to stand for re-election, but in the light of Wikileaks, the president is now weighing his options.
The diplomatic cables - covering the period 2004 to 2010 - were relayed to Washington from Harare, containing details of secret meetings US diplomats held with top army officers and Zanu-PF officials.
The meetings took place without the knowledge of Mr Mugabe and his supposedly omnipresent spies.
The general consensus is that although the top Zanu-PF leadership wants Mr Mugabe - who has cancer, according to the cables - to go, no-one is brave enough to tell him that to his face.
Party insiders say Mr Mugabe is not too sure how to deal with his enemies from within - those officials he thought would keep party secrets under lock and key.
'Feathers ruffled'
On the 7th floor of the imposing Zanu-PF headquarters overlooking the capital, Harare, party spokesperson Rugare Gumbo has been making a study of the documents.
In the right hand corner of his office is a bookshelf and a file written in bold letters "Wikileaks".
"My feeling is that [the Wikileaks] issue, might have ruffled feathers," he admits.
So are heads going to roll at the annual conference in December when Mr Mugabe is expected to seek Zanu-PF's endorsement to serve another five-year term.
"We will cross the bridge when we get there," he says.
It is not even clear, he says, if Mr Mugabe's future will be on the agenda as "according to party constitution, the president of the party is a candidate for any [presidential] elections that are held".
"He is likely to be endorsed," he adds.
The top party officials implicated in the diplomatic cables of plotting against Mr Mugabe have powerful party constituencies which he cannot afford to alienate by punishing them.
Vice President Joice Mujuru is wife to late army general Solomon Mujuru, a kingmaker, believed to have pressured Mr Mugabe to step down during party meetings.
Mrs Mujuru has a huge support base within Zanu-PF, as does party legal affairs secretary and Defence Minister Emmerson Mnangagwa, who is understood to have mooted the idea of forming a new party to challenge Mr Mugabe.
Dozens of others were named in the cables and Mr Mugabe has indicated he would like them investigated.
But there seems to be limited options for Mr Mugabe. He may be damned if he acts and damned if he does not.
If he does not, he will come out as a weak leader and his party will go into elections divided.
If he does act, he will also divide the party.
'Skulduggery'
For Zimbabwean lawyer and author Petina Gappah it is good to hear senior figures question Mr Mugabe's continued leadership, but she questions their motives.
"The people who were talking to the Americans clearly take themselves and the Americans more seriously than they take us," says Ms Gappah.
"That makes me angry," she says.
Political commentator Brian Raftopoulos sees the closed-door chatter as a historical problem for the party, now in its 48th year.
"Succession issues have never been dealt with openly in Zanu-PF. There has also been violence and death and all kinds of skulduggery. It's really the inability of a liberation party to transform itself into a democratic party," he says.
Nonetheless, the Wikileaks cables have now brought the "Mugabe-must-go" agenda into the public domain, says retired Major Kudzai Mbudzi, a veteran of the war of independence and a Zanu-PF member.
"Everybody is now aware that there is unanimity within the party that Mr Mugabe must go. But there is also unanimity in the public denial that they would require him to retire," he said.
Some believe it will make Zanu-PF stronger in the end - like Jonathan Moyo, who sits on the party's politburo.
He was cited in the documents calling for leadership renewal and an exit plan for the president. While he does not deny it, he says it happened during a time he had left the party, which he has since rejoined.
People now need to be clear which side they are on, he says.
"If anything, this is a God-sent event which will go a long, long way to unite people, scare cowards."
And given the smouldering discontent within Zanu-PF, come December party officials may just pluck up the courage to tell Mr Mugabe to bow out - gracefully or not.