South Africa DA elects first black parliamentary leader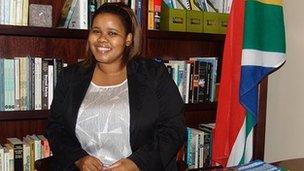 South Africa's opposition Democratic Alliance (DA) party has elected its first black parliamentary leader.
DA spokeswoman Lindiwe Mazibuko, 31, beat incumbent Athol Trollip, a white man, in the race for the job.
Analysts say her election shows the DA is trying to shed its image as a mainly-white party in a country where black people constitute the majority.
South Africa remains heavily polarised along racial lines, nearly 17 years after white minority rule ended.
Ms Mazibuko won the election with the backing of DA national leader Helen Zille, a white woman.
She faced tough competition from Mr Trollip, a white political heavyweight who speaks several African languages and was seen in the party as a safe pair of hands, the BBC's Karen Allen in Johannesburg reports.
But the DA elected Ms Mazibuko because it knows it has to change its image if it is to meet its goal of unseating the governing African National Congress (ANC) party and forming a coalition government within a decade, our correspondent says.
The DA's critics dismiss Ms Mazibuko's election as window-dressing and say the party remains white-dominated.
Ms Mazibuko rejects the allegation.
She says that as a young black person, she has greater resonance with the youth who make up the vast majority of South Africa's unemployed.
The DA obtained 24% of the vote in the 2009 parliamentary elections.
Whites make up about 10% of South Africa's population.
The ANC has ruled South Africa since 1994, after spearheading a decades-long campaign to end apartheid.
Related Internet Links
The BBC is not responsible for the content of external sites.