South Sudan rebel group attacks town in oil-rich state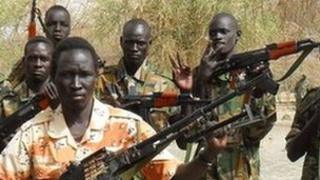 Rebels from the South Sudan Liberation Army have attacked a town in the oil-rich Unity State and at least 75 people have died, the national army has said.
Among the dead, nine were soldiers, 15 were civilians and at least 50 were rebels, an army spokesman told the BBC.
South Sudan became independent in July after a peace deal with Khartoum that ended decades of civil war.
Afterwards, some of the region's rebel movements struck deals with the government but several remain defiant.
'Corruption'
Both sides produced widely differing accounts of the number of casualties after the attack in Unity State, which happened in the early hours of the morning.
The SSLA say that they killed more than 700 soldiers in the attack. Rebels' claims that they are now in control of town of Mayom have been dismissed by locals and officials.
On Friday, rebels from the South Sudan Liberation Army (SSLA) warned United Nations staff and aid workers to leave the state. This warning has now been extended to the nearby Warrup state.
The rebels say they are fighting against corruption, underdevelopment and the domination of the Sudan People's Liberation Movement, the former rebels who now run South Sudan.
They are also angered by what they believe is the domination of the Dinka ethnic group. Most of the SSLA are from the Nuer ethnic group, the second biggest in South Sudan.
The BBC's James Copnall, in Khartoum, says that the SSLA's rebellion is particularly sensitive because of its location as most of South Sudan's oilfields - which account for 98% of the new country's revenue - are in Unity State.
South Sudan's independence from Sudan was the outcome of a 2005 peace deal that ended decades of conflict between north and south in which some 1.5 million people died.