Somali al-Shabab militants attack Kenyan army convoy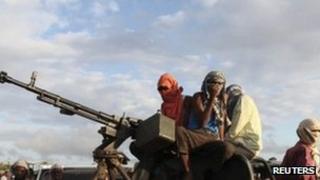 Somalia's transitional government has said its forces, backed by Kenyan troops, have repulsed an attack by Islamist al-Shabab insurgents.
A Somali military spokesman told the BBC they killed 36 insurgents in a counter-attack in the south.
But an al-Shabab commander said the militia had destroyed Kenyan military trucks and inflicted heavy casualties.
Kenya's military, which sent troops into Somalia last month, has warned 10 towns of imminent attacks via Twitter.
Kenya blames al-Shabab militants for a spate of kidnappings on Kenyan soil.
But the al-Qaeda-linked group, which is in control of most of southern Somalia, denies the allegations.
Weapon delivery
An al-Shabab regional commander Sheik Mohamed Ibrahim said a Kenyan military convoy had been ambushed on the road from the border town of Liboi to Kenyan forward troop positions inside Somalia.
"The mujahideen fighters destroyed several of the military trucks in the convoy," Mr Ibrahim said.
Kenya's military spokesman, Maj Emmanuel Chirchir, confirmed that there had been a firefight between Kenyan forces and four suspected al-Shabab militants.
He said the convoy had challenged the gunmen to stop walking, at which point they opened fire.
Maj Chirchir also warned the residents of 10 towns in Somalia via Twitter of "imminent" air raids.
He later clarified to the BBC that bases of the al-Shabab militia were outside those towns, and that these camps would be their target - adding it was difficult to fit all the information into the 140 characters allowed in a Twitter message.
"We are saying that people should be careful in not mixing up with al-Shabab. That is our message," the major said.
He said Kenya was tracking two consignments of weapons destined for al-Shabab that had been flown into Somalia in the past two days, and would strike any rebel bases where the arms were delivered.
Nine towns were listed in one of his tweets: Baidoa, Bardhere, Dinsor, Afgoye, Buale, Barawe, Jilib, Kismayo and Afmadow.
He said it was an operational decision and the attacks would begin "any time" from Wednesday.
His warning follows controversy over the aerial bombardment of Jilib on Sunday in which he says a Kenya fighter jet hit al-Shabab positions, killing 10 militia fighters.
But the medical charity MSF-Holland said at least five people, including three children, died after a camp for internally displaced people was bombed.
People abducted from Kenya since September include a French woman suffering from cancer, who French authorities say has since died, a British woman taken from a coastal resort, whose husband was killed in the raid, and a Kenyan driver and two Spanish aid workers seized from the Dadaab refugee camp near the Kenya-Somalia border.
After two decades of civil conflict, Somalia is awash with guns and analysts say any number of groups could have carried out the kidnappings - including pirate gangs.
Al-Shabab is locked in a battle with the weak UN-back interim government for control of the parts of the country which are currently outside its power, particularly the capital, Mogadishu.