Morocco falls in love with plastic surgery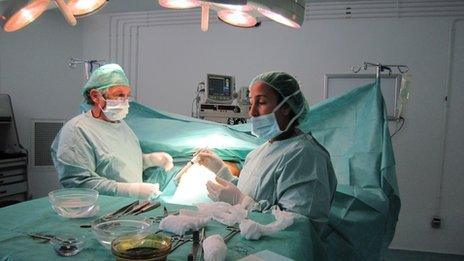 The number of Moroccan women having plastic surgery to improve their looks is growing every year, despite some religious scholars saying that it is un-Islamic.
Clinique Slaoui is situated on one of Rabat's main roads, in the upmarket suburb of Souissi, making it very visible to passing, well-heeled residents.
The modern and brightly painted building is in stark contrast to many of Morocco's grim hospitals, and Prof Salehdine Slaoui, the owner, says business is booming.
"Moroccan women are increasingly becoming more independent and are working harder," he says.
As their social and economic status rises, they are more able to afford to change their physical appearance.
Their reasons for going under the knife vary.
Some women do it more now to prevent their husbands from cheating on them, others are influenced "by the European look", he says.
Religious edicts do not seem to be a concern for many.
In fact, such is the demand for plastic surgery, the professor says, there are not enough surgeons to cope.
"The number of surgeons has not progressed. Up to now there are still just 50 plastic surgeons in Morocco," he says.
Some 20 clinics attract a significant number of clients from abroad, some of them lured by cheaper prices than they would pay at home. But the majority are Moroccan.
On the day I visit, the waiting room is full of wealthy-looking clients, mostly women.
Khadija, 37, has come for her check-up after her breast enlargement operation a week ago.
Wearing jeans and a sleeveless top, she seems very pleased with the results and has no religious qualms about opting for more surgery.
"After my operation I stayed at the clinic for three days... a nurse stayed with me 24/7," she says.
"Next time I want to have something done to my face and even liposuction."
Breast implants cost around $4,000 (£2,500) - way out of reach for the average Moroccan who only earns about $600 a month.
On the top floor of the clinic, where the in-patients stay, the rooms are immaculately well furnished - like a five-star hotel.
A teenage girl can be seen recovering from a nose job. Her eyes are bruised and with a huge bandage on her face, she is barely able to keep her balance.
Another patient, 25-year-old Fatima, is about to have her breasts enlarged.
She has short bright bleached blonde hair and is waiting nervously with her veiled mother, who is holding her hand.
"I'm not scared having this done. It's very important - as you can see I am flat-chested and I want to be more feminine."
She said the operation would help her psychologically.
"God would approve of that," she said.
But plastic surgery is a controversial matter in what is still largely a conservative, Muslim country, especially in rural areas and urban districts which are less well-heeled than Souissi.
The debate reflects how this North African kingdom is torn between modernity and traditional Islam, and its links to Europe and the Middle East.
"The role of the body is more spiritual than these superficial inconveniences," says Islamic scholar Ahmed Boukilil.
"It is forbidden in the Koran to change a part of the body [for cosmetic purposes]," he says.
"People forget that their role on earth is not to be too obsessed by the body but more the spiritual side."
Sampling views at cafes in Rabat, women in their twenties and thirties were also divided in their opinions.
"It's very sad how people want to change themselves and do not accept how they usually are," one said.
"But those who have accidents, I can understand that they want to change themselves to how they looked before."
Another said she understood the "moral conflict".
"But if it helps you reach your ends and helps you get through society, why not?"
Related Internet Links
The BBC is not responsible for the content of external sites.