Liberia election: Winston Tubman profile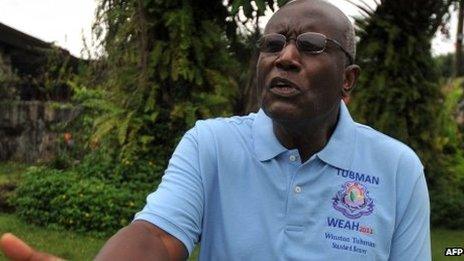 Grey-haired and bespectacled, 70-year-old Winston Tubman has put on hold his long-held ambition of becoming Liberia's president.
The former UN diplomat withdrew from the run-off, claiming the poll was rigged - a decision condemned by African Union observers.
"It's a bad signal... political leaders must be prepared to win or lose," said former Ugandan Vice-President and head of the African Union observer mission Speciosa Wadira Kazibwe, according to the AFP news agency.
Some analysts believe Mr Tubman withdrew because he was heading for defeat, with the potential kingmaker - Prince Johnson, who came third with 12% of the vote in the first round - throwing his weight behind President Ellen Johnson Sirleaf.
Mr Tubman comes from Liberia's political royalty, being the nephew of the nation's longest-serving president, the late William Tubman, who ruled from 1944 until his death in 1971.
On some occasions, Mr Tubman traded on his uncle's name in his bid to secure the presidency, pointing out that Liberia - despite its ethnic rivalries - was peaceful during his era in office.
On other occasions, he distanced himself from his uncle, saying: "I am Winston - not William."
During last month's first round of voting, Mr Tubman was beaten by Nobel peace laureate and incumbent Ellen Johnson Sirleaf, but got enough ballots (32%) to force a run-off.
But some Liberians say Mr Tubman lacks charisma and the common touch.
As a result, he relied heavily on his running-mate, ex-football star George Weah, for votes in the first round.
"Weah is the crowd-puller. Without him, Tubman would have fallen out in the first round," says one Liberian political observer, who spoke on condition of anonymity.
This happened to Mr Tubman in the 2005 election, when he was knocked out in the first round, coming fourth with 9.2% of the vote.
The poll took place after a brutal civil war that forced then-President Charles Taylor - now on trial at The Hague for alleged war crimes - out of power.
It was widely hailed as a historic poll, leading to Mrs Sirleaf - a long-standing rival of Mr Tubman - becoming Africa first elected female head of state.
Mr Tubman contested that election under the banner of the National Democratic Party of Liberia (NDPL) - once led by the hated former ruler, Samuel Doe, who was executed by rebel forces in 1990.
For this election, Mr Tubman switched to the Congress for Democratic Change (CDC) party, having beaten its founder, Mr Weah, in the presidential nomination race.
"Party members felt they needed someone who is not just popular but someone who has an international profile and is respected - like Sirleaf," the Liberian observer says.
Mr Tubman has an impressive curriculum vitae.
A lawyer by profession, he studied at Harvard, Cambridge and the London School of Economics - a sign of his privileged background.
Born in the town of Peeblo in Liberia's Maryland country in 1941, Mr Tubman is, in Liberian parlance, half-indigenous and half-settler.
His mother came from the Grebo ethnic group, while is father was an Americo-Liberian - the descendant of freed African slaves from the US who settled in Liberia.
Analysts say despite his mixed background, Mr Tubman is seen as being part of the politically and economically dominant Americo-Liberian elite, failing to bridge Liberia's "indigenous-settler" divide, even if that issue did not surface, at least publicly, in campaigning.
"He is arrogant and has no real party, having carpet-bagged around to find anyone that would back his campaign," a Liberian critic of Mr Tubman says.
Others paint a different picture of Mr Tubman.
"He has an affable, engaging and capable personality. He did not come across as the combative type," a UN official, previously based in Liberia, says.
A member of the Pentecostal church, Mr Tubman was the justice minister in the 1980s in the brutal regime of Mr Doe, whose killing was filmed by forces loyal to Prince Johnson.
In his attempt to beat Mrs Sirleaf, Mr Tubman formed an alliance with Jewel Taylor - a senator who is Mr Taylor's wife.
Analysts say it shows the murky nature of Liberian politics, with alliances constantly shifting as politicians jockey for power.
But Mr Tubman has always portrayed himself as a democrat trying to reach out to all Liberian factions to achieve genuine reconciliation - something he says has eluded Liberia during Mrs Sirleaf's first term in office.
When she was awarded the Nobel Peace prize shortly before the first round of voting, he denounced her as a "war-monger", pointing out that she initially backed Mr Taylor when he launched his rebellion in the 1980s to overthrow Mr Doe.
"She doesn't deserve this honour. She's brought war here," he told the BBC's Focus on Africa programme.
"I did more to stop the war than she did because she was in for continuing the war. And now that the war has stopped she wants to continue on top of the country as though she is some liberator. She is not. "
In between his political career, Mr Tubman was a UN diplomat and is said to have had a close relationship with its former Secretary-General Kofi Annan.
"He was seen as competent, hard-working and versatile," the UN official who spoke on condition of anonymity says.
In 1998, Mr Tubman was appointed senior adviser to the Force Commander of the UN Iraq-Kuwait Observation Mission (Unikom).
Prior to that, he was based at the UN Peace Office in Zagreb, Croatia.
He reached the peak of his career at the organisation in 2002, when Mr Annan appointed him as his special envoy to Somalia.
He quit the post three years later, having helped broker a peace deal that, far from helping to end Somalia's long-running conflict, intensified it, as militant Islamists - who were excluded from the talks - launched an insurgency to overthrow the new government.
A Liberian critic argues that Mr Tubman - who once ran a law firm in Liberia - lacked the skills of a mediator.
"People say he was a UN diplomat, but my understanding is that he was more of a lawyer than a trouble-shooting diplomat," he says.
With Mr Tubman now seen by some as endangering Liberia's nascent democracy, he may have lost the respect he once commanded on the international stage - and diplomats may have to be sent to Monrovia to ease tension.
Precisely the kind of job Mr Tubman used to perform elsewhere.
Related Internet Links
The BBC is not responsible for the content of external sites.