Angolan state of emergency after polio outbreak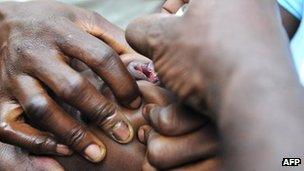 A medical state of emergency has been declared in Angola's northern border region of Uige after a 14-month-old boy tested positive for polio.
The child, who had not been vaccinated, was tested for the virus after he became paralysed in one of his legs.
He lives in a remote village near the Democratic Republic of Congo, where nine polio cases have been reported this year.
The UN child's agency said it was likely to be linked to that epidemic.
"The province has declared an emergency because last year there were 33 cases of polio in Angola and this year so far there were only four," Koen Vanormelingen, the Unicef representative in Angola, told the BBC's Network Africa programme.
He said more importantly no cases had been reported in traditional hot spots for the virus since November last year.
"So Angola is well on its way to interrupting the polio transmission and that's why they're making extremely strong efforts to control the epidemic," he said.
Polio is a highly infectious virus which mainly infects young children.
It is transmitted through contaminated food and water - once it enters the intestine it multiplies and can spread into the nervous system.
Last year, there was a mass immunisation drive in Angola to vaccinate all children under five.
The cases in DR Congo's Bandundu province were reported between March and September this year.
"As long as there is a single case of wild polio virus anywhere in the world, any unimmunised child is at risk," Dr Vanormelingen told the AP news agency.
Children require three to four polio vaccines - taken orally usually in their first year of life - to be immunised against the crippling disease.
Related Internet Links
The BBC is not responsible for the content of external sites.