Maiduguri: Nigeria 'bombers attack military bases'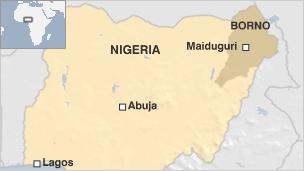 Suicide bombers have targeted the headquarters of the military and secret service in the northern Nigerian city of Maiduguri, army officials say.
Maj Gen Jack Nwaogbo, commander of the city's military taskforce, told the BBC three of the attackers had died.
Two other explosions have been reported and an eyewitness told the BBC he saw smoke rising from outside a college.
Army taskforce spokesman Lt Col Hassan Mohammed blamed the Islamist Boko Haram group for the "simultaneous attacks".
Boko Haram - which means "Western education is forbidden" - usually targets the police and government officials.
Maj Gen Nwaogbo said the headquarters of both the Joint Military Taskforce (JTF) and the State Security Service (SSS) in central Maiduguri had been targeted.
He said there had been no other casualties, but one eyewitness told the BBC that a soldier had been killed.
Lt Col Mohammed said a black four-by-four vehicle packed with explosives tried to gain entry to the JTF complex - when it failed, the car was detonated about 50m from the gate.
Another resident of the city told the BBC Hausa Service that smoke could be seen near the College of Islamic Theology, further down the road from the SSS.
He said sirens could be heard and soldiers had cordoned off streets and were restricting movement.
A military source told the BBC that a fourth explosion had occurred on Baga Road, which leads to an army barracks.
Witnesses say the explosions happened about the time of the Friday prayers and as people were preparing for the Muslim holiday of Eid al-Adha over the weekend.
The attacks follow a special operation by the security services in the city to mop up illegal weapons.
There have been house-to-house searches this week looking for arms after the deadline for a gun amnesty expired on 31 October.
The BBC's Jonah Fisher in Lagos says that if Boko Haram has carried out these co-ordinated attacks it would be a testament to the group's evolving nature.
More than two years ago, Nigeria's security forces brutally suppressed an uprising by the sect, destroying its compound in Maiduguri - capital of Borno state - and then capturing and killing its leader Mohammed Yusuf.
Instead of disappearing, the group re-emerged last year and vowed to avenge its leader's death.
At first it targeted politicians and policemen for drive-by assassinations in Borno.
In June it said it had carried out an attack on the police headquarters in the capital, Abuja, and two months later the sect is thought to have carried out the bombing of the UN headquarters in the city, killing 23 people.
Meanwhile, riots have broken out in Zonkwa, a town in the northern state of Kaduna, after a church was attacked by unknown gunmen.
Hundreds of people were killed in Zonkwa after April's election and some of the Muslim groups attacked had vowed reprisals, as had Boko Haram.