Liberia election: Tubman to boycott run-off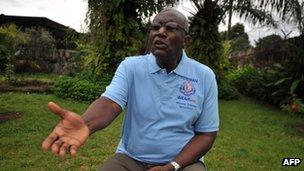 The opposition candidate in next week's presidential run-off in Liberia, Winston Tubman, has said he will not take part.
He was due to stand against the incumbent, Ellen Johnson Sirleaf, who won about 44% of the vote in the first round in October.
He accuses Mrs Sirleaf of trying to resurrect a one-party state.
The presidential election is seen as a test of Liberia's fragile democracy after 14 years of vicious civil war.
The president accused him of violating the constitution.
"Mr Winston Tubman has called on Liberians to give up their franchise, their right to vote. He has called people to violate the constitution," Mrs Sirleaf said in a TV and radio address.
Mr Tubman announced his boycott to reporters in the capital, Monrovia.
"We will never reward fraud and abuse of power and will never grant legitimacy to a corrupt political process," he said.
Speaking to the BBC's Thomas Fessy, he accused Mrs Sirleaf of trying to establish a tyrannical regime.
Mr Tubman's Congress for Democratic Change (CDC) party alleged widespread fraud in last month's first round, but international observers said the polls had been peaceful and transparent.
Mr Tubman called for a peaceful protest on Saturday and for his supporters to boycott next week's vote.
The new head of Liberia's election commission, Elizabeth Nelson, said the presidential vote would go ahead as planned.
The West African regional body Ecowas has warned that a boycott risks destabilising Liberia and called on Mr Tubman not to pull out of the process.
The former head of the election commission, James Fromayan, resigned last week after Mr Tubman's CDC complained it was biased.
But the party had said other checks and balances had to be put in place for Mr Tubman to take part in the vote.
In the presidential run-off, Mr Tubman would have faced Nobel Peace laureate Ellen Johnson Sirleaf.
She became Africa's first female elected head of state after the 2005 elections following the end of Liberia's 14-year civil war in which 250,000 people were killed.
These are the first post-war elections organised by Liberians - the previous poll was run by the UN, which still has some 8,000 peacekeepers in the country.
Mrs Sirleaf gained 44% against 32% for Mr Tubman. A candidate needs most than 50% for outright victory.
Mr Tubman's running mate is former footballer George Weah, who was defeated by Mrs Sirleaf in the 2005 poll.
Former rebel leader Prince Johnson, who came third in the first round with 12%, has urged his supporters to back Mrs Sirleaf.
Related Internet Links
The BBC is not responsible for the content of external sites.